The purpose of this legislation is "to award a Congressional Gold Medal, collectively, to the United States Merchant Mariners of World War II, in recognition of their dedicated and vital service during World War II." S. 2127 was introduced by Senator Lisa Murkowski of Alaska on November 15, 2017. The Senate Committee on Banking, Housing, and Urban Affairs, chaired by Sen. Michael Crapo of Idaho, currently has control of the bill. S. 2127 has 17 co-sponsors as of mid-April, 2018. A companion bill in the House is needed.
Flashback: End of the 114th session of Congress
H.R. 2992: Merchant Marine of WWII Congressional Gold Medal Act, introduced by Rep. Susan Brooks of Indiana, had collected 312 co-sponsors as the 114
th
Congress was winding to a close. On November 30
th
, 2016, during a special session of Congress dealing with "legislation considered under suspension of the rules", H.R. 2992 passed the U.S. House of Representatives. This special action was required since the rules otherwise permit only one Congressional Gold Medal per session of Congress, which had already been finalized. It is notable to mention that two other WWII groups also saw their Gold Medal legislation passed in this session. (In 2014, seven Congressional Gold Medals were awarded to various groups and individuals.) Speaking on the House Floor were Rep. Bill Huizenga (R-MI), Rep. Bill Foster (D-IL), and Rep. Susan Brooks (R-IN), who introduced the bill. Together, these three representatives did a wonderful job in laying out the facts. The passage of H.R. 2992 was a short-lived victory, as the focus shifted to companion Senate Legislation S. 2989. Support for this legislation quickly rose from 10 to 34 co-sponsors, thanks to a hard push from AMMV members, advocates, and sponsoring Senators. Yet, there was not enough overall interest to push the bill beyond this point.
What happened???
As stated above, three WWII groups were saw their respective legislation pass in this special House session. However, of the companion Senate bills to each of these three passed House bills, our U.S. Senate only collectively saw fit to pass the Gold Medal bill for Filipino Veterans of WWII (S. 1555). It was signed by President Obama on December 14
th
, 2016. What about our American citizen Veterans? Common accepted statistics convey that one in every twenty-six U.S. Merchant Mariners who served in WWII were killed in the line of duty. Over 8,400 American seamen never returned; an additional 11,200 were wounded; 733 ships over 1,000 gross tons were sunk; dozens of our Merchant Mariners were captured and tortured as Prisoners of War.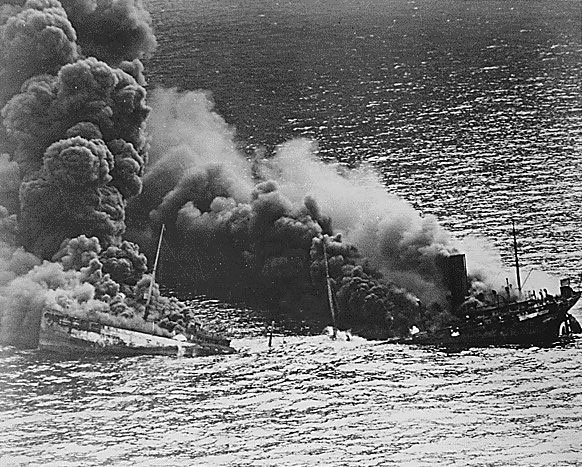 Why won't our Congress provide a strong enough push to get this bill over the hump? Take a moment and "google" past recipients of the Congressional Gold Medal. The list includes golfers, athletes, authors, and even a cartoonist. With all due respect to any past recipients, WHAT ABOUT OUR MERCHANT MARINERS OF WWII? They paid the price. Without their service and sacrifice, the Allied forces would not have been properly supplied and the war would have been lost. It would be a much different world today. Please – contact your Senators and ask for their support of S. 2127. Our seagoing Veterans of the Greatest Generation deserve this recognition. IT'S TIME! Click
HERE
to fill out this quick automated form letter to Congress asking support for S. 2127. Click
HERE
to print out a form letter to mail to the Senate Committee on Banking, Housing, and Urban Affairs asking for support of S. 2127.