Storm the Hill Report
Details provided by STH team member/coordinator Sheila Sova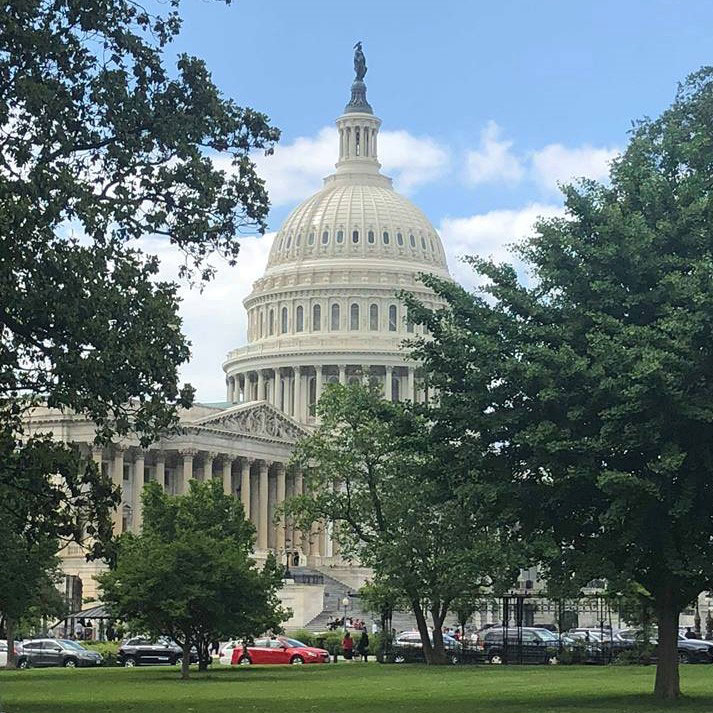 Sunday, May 20th:
This was the arrival date at our "home port" of MITAGS (Maritime Institute of Technology & Graduate Studies) in Linthicum Heights, MD. Our group held a dinner meeting to discuss the upcoming days and events. Our 2018 "Storm the Hill" participants included team leader Charles A. Mills of Texas (Lone Star Chapter); Eugene Barner of Kansas (Member-at-Large); Robert Weagant of Illinois (Midwest Chapter); Laura Johnson Riddle of Arizona (Member-at-Large); and myself – team coordinator Shelia Sova of Illinois (Member-at-Large).
Monday, May 21st:
Rally on the Capitol Grounds
In reaching the demonstration site, our group encountered some unexpected delays. This was the fault of the limo company for switching-out the type of vehicle at the last moment (without our knowledge or consent), which resulted in security issues. All of our contacts were on station by the time we arrived. This included Dave Gardy from Maritime TV; a reporter from CBS-affiliate WUSA; a group of Unlicensed Apprentices from the SIU's Paul Hall Center with their Commandant, Craig Guy; and Jordan Biscardo from the
Seafarers Log
. AMMV Member Larry Groves was also present and of great assistance. Our permitted location for this rally was "Senate East Front Grassy – Area 9", bound by the North Mezzanine sidewalk; Fifth Street, NE, Northeast Drive, and the East Front Plaza. Following our initial delay, the demonstration went as planned.
Meetings
Later in the afternoon, we met with Senator Lisa Murkowski of Alaska (sponsor of
S. 2127: Merchant Mariners of World War II Congressional Gold Medal Act of 2017
). Murkowski was kind enough to do a photo op with the group. Her staff said she would look into
H.R. 154
to see what can be done (regarding the need of a companion bill).
Contacts
: (202) 224-8767
[email protected]
;
[email protected]
; Twitter: @lisamurkowski We also met with Fair Kim of the American Maritime Congress (AMC) and Sara Fuentes of the Navy League. (You may recall that AMC President James E. Caponiti was a speaker at our St. Louis convention; also, Fuentes is to be credited for setting up the e-letters to Congress in support of WWII Merchant Mariner legislation on the NLUS website.)
Tuesday, May 22nd
:
National Maritime Day events
Our group received front row seats at the annual Department of Transportation National Maritime Day ceremony, which is an "invitation only" event. Many top leaders in maritime and military were present, including U.S. Secretary of Transportation Elaine Chao; U.S. Transportation Command (USTRANSCOM) General Darren W. McDew; and United States Maritime Administrator Mark H. Buzby. Secretary Chao introduced our STH group members individually by name.
Heave Ho
was played near the end of the ceremony, with Administrator Buzby singing the lyrics. Next, we were the guests of honor at an informal luncheon sponsored by the Kings Point Club of D.C. We made several contacts with the KP Alumni and hope that some will join AMMV. We wish to thank Laila Linares (USMMA '06) for the invite!
Meetings
We met with the staff of Idaho Senator Mike Crapo, who is the Chairman of the Senate Committee of Banking, Housing, and Urban Affairs. This is the committee that is currently holding our Congressional Gold Medal bill (
S. 2127
). Crapo's staffers Bethany Carter and Sierra Robinson explained that a Senate bill needs 67 co-sponsors to push it out of committee. (This is what doomed the Gold Medal bill in the 114
th
Congress. H.R. 2992 passed in a special session under "suspension of the rules", having 312 co-sponsors. The companion bill, S. 2989, only had 34 co-sponsors.) Crapo's staffers feel that
S. 2127
is within reach if we can rally our supporters to make enough noise with phone calls and letters to their Senators. We also discussed the need for a companion Senate bill to
H.R. 154
, but were told budgetary concerns and projected costs are bound to turn away potential support.
Contacts
: (202) 224-6142;
[email protected]
;
[email protected]
; Twitter: @MikeCrapo Next, we dropped off pamphlets with Kansas Senators Jerry Moran and Pat Roberts (team member Barner is a constituent), then delivered a photo to California Congresswoman Nancy Pelosi, of which her father is pictured with Charles Mills. Her staffer took down Charles' telephone number.
Contacts
: Senator Jerry Moran (202) 224-6521; Twitter: @JerryMoran Senator Pat Roberts (202) 224-4774; Twitter: @SenPatRpberts Congresswoman Nancy Pelosi (202) 225-4965; Twitter: @NancyPelosi
Wednesday, May 23rd:
Meetings
On this morning, Rep. John Garamendi of California announced from the Floor the introduction of
H.R. 5879
. This is the House companion bill to
S. 2127
, the WWII Merchant Mariner Congressional Gold Medal Act. Rep. Garamendi's staff was very friendly, and we thanked them for the introduction of this legislation. As soon as the bill was announced, the Congressman asked us for a photo op! We took this opportunity to present him with an AMMV challenge coin. He conveyed that of all the challenge coins he has received, this WWII USMM coin is the most meaningful. (Garamendi also signed on as a co-sponsor to
H.R. 154
.)
(Note: At our 2018 National Convention, AMMV resolved to support H.R. 1240: The Energizing American Maritime Act, introduced by Rep. Garamendi. If enacted, this would provide a boost for jobs in the U.S. Merchant Marine.)
Contacts
: Emily Burns (Chief of Staff) 202-225-1880;
[email protected]
; Twitter: @RepGaramendi The next meeting was with staffer Matt Rowland of Rep. Al Green's office. Congressman Green is the sponsor of
H.R. 154
. (Note: H.R. 154 is identical to [former] Rep. Janice Hahn's H.R. 563 in the 114
th
Congress.) Rowland was not familiar with H.R. 154 and didn't offer much information. Charles expressed his disappointment that the bill had not received any attention. However, Rowland was very polite and said he would investigate to learn what official number of USMM WWII Vets are registered with the VA.
Contacts
: (202) 225-7508;
[email protected]
; Twitter: @RepAlGreen Our group next stopped at the office of Illinois Congressman Mike Bost. Bost is the Chairman of the Subcommittee of Disability Assistance and Memorial Affairs, which currently holds
H.R. 154
. Staffer Noah Barger greeted us; also present on our behalf was American Maritime Officers (AMO) union National President Paul Doell. Shortly thereafter, Rep. Bost arrived and, being a huge history buff, chatted some WWII history with us. On the subject of the USMM of WWII, each of our Vets described some of the events that took place in the war, such as having to pay one's way home when released from POW camps. Rep. Bost discussed CBO (Congressional Budget Office) costs in regards to H.R. 154. He suggested using VA numbers as well.
Contacts
: (202) 225-5661;
[email protected]
; Twitter: @RepBost Our scheduled meeting with the Floor Director (Hugh Halpern) for Speaker of the House Paul Ryan was essentially useless, as he was called away for a meeting in less than five minutes.
Contacts
: (202) 225-5550; (202) 225-0600;
[email protected]
; Twitter: @SpeakerRyan One of our more strategic meetings was with Congressman Cedric Richmond of Louisiana, who serves as Chairman of the Congressional Black Caucus (CBC). Also present was staffer Ms. Dominque Wardell. Charles Mills spoke entirely, informing Rep. Richmond that the USMM was the only integrated branch of military at that time. When asking Richmond why no members of the CBC have cosponsored
H.R. 154
, his response was that Rep. Al Green never asked for this. Rep. Richmond advised that the CBC meets in two weeks and told Charles to wait until three weeks has elapsed because he guaranteed members of the CBC would be co-sponsoring the bill.
Contacts
: (202) 225-6636;
[email protected]
, Twitter: @RepRichmond
CBC Contacts
: (202) 226-9776; Twitter: @OfficialCBC; website:
https://cbc.house.gov/
Earlier, while the gang was waiting to see Rep. Richmond, I walked over to the office of Missouri Congresswoman Ann Wagner, who was expecting us. Just prior to the kick-off of Storm the Hill, the local St. Louis station KSDK (NBC-affiliate) featured a story on WWII MM Vet Robert Westrich. Rep. Wagner's team expressed interest in our cause after viewing the story.
Contacts
: (202) 225-1621;
[email protected]
;
[email protected]
; Twitter: @RepAnnWagner
(Note: KSDK aired another story on June 6th, totaling three stories within three months about the WWII Merchant Marine. News reporter Grant Bissel has been leading the efforts with these stories. Twitter: @gbisselKSDK)
Meetings for this day concluded with a visit to the office of Rep. Alma Adams of North Carolina. Staffer Katherine Stewart was very interested and said she would speak with Rep Adams in support of
H.R. 154
&
H.R. 5879
.
Contacts
: (202) 225-1510;
[email protected]
;
[email protected]
; Twitter: @RepAdams Later that evening, we were the guests of AMO President Paul Doell, who took us out for dinner at the Capitol Hill Club. This enabled us to briefly meet and/or pose for a photo with Rep. Trey Gowdy of South Carolina, Rep. John Shimkus of Illinois, Senator Tim Scott of Texas, and Rep. John Ratcliffe of Texas. (With the exception of Rep. Shimkus, we were not able to ask these reps for sponsorship of our bills.)
Contacts
: Rep. Trey Gowdy (202) 225-6030; Twitter: @TGowdySC Rep. John Shimkus (202) 225-5271; Twitter: @RepShimkus Senator Tim Scott (202) 224-6121; Twitter: @SenatorTimScott Rep. John Ratcliffe (202) 225-6673; Twitter: @RepRatcliffe
Thursday, May 24th:
Meetings
We began our activity with "Coffee with Senator John Cornyn" of Texas. Staffer Patrick Heiny was extremely respectful toward our group and (having served in the U.S. Marine Corps) expressed knowledge of the role of the U.S. Merchant Marine. The need for a companion bill for
H.R. 154
was discussed, and we urged Senator Cornyn to co-sponsor
S. 2127
.
Contacts
: (202) 224-2934;
[email protected]
; Twitter: @JohnCornyn Heiny then allowed us to ride the underground tram system with him to travel to our next appointment, where we spotted Senator Richard Blumenthal of Connecticut, who we had met with during 2017 Storm the Hill efforts. Fortunately, we were able to get a quick photo with him. We offered Blumenthal a challenge coin and informational pamphlet, asking for support of
S. 2127
.
Contacts
: (202) 224-2823; Twitter: @SenBlumenthal Our next stop was the office of Senator Tammy Duckworth of Illinois, who is a combat veteran of the Iraq War. With the Senator being on maternity leave, we spoke with staffer James Jarosz, asking for co-sponsorship of
S. 2127
and a companion bill for
H.R. 154
. The projected number of 5,000 Merchant Mariners (as per language in the legislation text) that would be eligible for H.R. 154 again came up as a being a substantial obstacle to gaining co-sponsors and support. Jarosz seemed to recommend (as did most staffers) that this estimated number be reduced for the legislation to gain traction.
Contacts
: (202) 224-2854;
[email protected]
; Twitter: @SenDuckworth At the office of Senator Mark Warner of Virginia, we met with staffer (Legislative Correspondent) Micah Barbour. When asking for support of
S. 2127
and a companion bill for
H.R. 154
, Barbour stressed the need for constituents to call their Congressperson and Senators and request that these bills be advanced out of committee.
Contacts
: (202) 224-2023;
[email protected]
; Twitter: @Mark Warner; @MarkWarnerVA We next found ourselves at the office of South Carolina Senator Tim Scott, who we had briefly said hello to the previous night at the Capitol Hill Club. The Senator wasn't present, but we spoke to his staffers and provided the rundown of
S. 2127
&
H.R. 154
.
Contacts
: (202) 224-6121;
[email protected]
;
[email protected]
; Twitter: @SenatorTimScott We visited the office of Maryland Senator Chris Van Hollen with the same requests for support. Present were staffers Spencer Knoll and Steve Sucharski.
Contacts
: (202) 224-4654;
[email protected]
;
[email protected]
; Twitter: @VanHollenForMD The Legislative Correspondent (Jacob Olidort) at the office of Utah Senator Orin Hatch was receptive but not aware of the WWII Merchant Marine Veteran.
Contacts
: (202) 224-5251;
[email protected]
; Twitter: @senorrinhatch; @jolidort The next scheduled meeting was with Senator Angus King of Maine. King is already sponsor of
S. 2127
, but we wanted to discuss a companion bill for
H.R. 154
. While waiting our turn, we recieved an offer to meet with Senator Boozman of Arkansas. Boozman is on the Senate Committee of Veterans' Affairs, which would be responsible for the funds appropriated, should H.R. 154 gain a companion bill. In order to maximize our time rather than waiting in line, we left a challenge coin and information for Senator King and then proceeded to visit Boozman.
Contacts
: (202) 224-5344;
[email protected]
; Twitter: @SenAngusKing We had the privilege of a photo op with Senator Boozman. As we posed for a picture of the challenge coin exchange, I asked him to sponsor a companion bill for
H.R. 154
and to co-sponsor
S. 2127
in the Senate. Without quoting his exact words, he did express intent to take action.
Contacts
: (202) 224-4843; Twitter: @JohnBoozman
Friday, May 25th:
With all STH activities concluded and the boys on their way home, Laura and I received a private tour of the Liberty Ship
John W. Brown
. Many thanks to the Captain & crew of the
Brown
for allowing us to see firsthand the type of vessel that our fathers sailed on!
---
The following is a contact list of the Committees currently holding WWII Merchant Mariner legislation:
H.R. 154: Honoring Our WWII Merchant Mariners Act of 2017
House Committee on Veterans' Affairs 335 Cannon House Office Building Washington, D.C. 20515 Phone: (202) 225-3527 Twitter: @HouseVetAffairs Chairman: Dr. Phil Roe – Tennessee Twitter: @DrPhilRoe
S. 2127: Merchant Mariners of World War II Congressional Gold Medal Act of 2017
Senate Committee on Banking, Housing, and Urban Affairs 534 Dirksen Senate Office Building Washington, D.C. 20510 Phone: (202) 224-7391 Chairman: Senator Mike Crapo – Idaho Twitter: @MikeCrapo
H.R. 5879: Merchant Mariners of World War II Congressional Gold Medal Act of 2018
U.S. House of Representatives Financial Services Committee 2129 Rayburn House Office Building Washington, D.C. 20515 Phone: (202) 225-7502 Twitter: @FinancialCmte Chairman: Rep. Jeb Hensarling – Texas Twitter: @RepHensarling
Photos from 2018 Storm the Hill
Daughter fights for recognition of WWII MM Vets in St. Louis
Maritime TV interviews Storm the Hill Veterans
A case to support H.R. 5879 & S. 2127