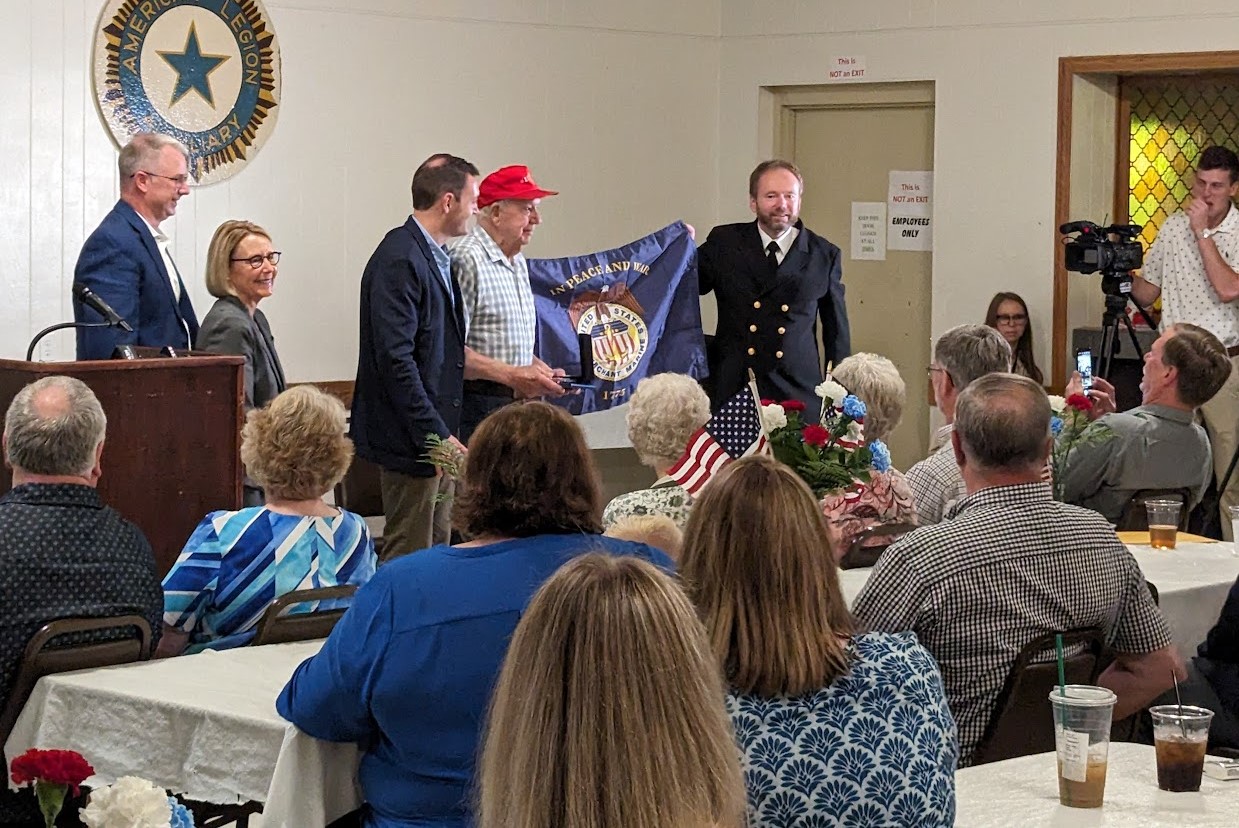 (L to R): Rick Hojan (grandson of Armin Barth), Kay Eggert (Appleton School Board President), Congressman Mike Gallagher (WI 8 th District), WWII MM Armin Barth, and Capt. Chris Edyvean (AMMV Regional VP)
Appleton WWII Veteran receives High School diploma and Congressional Gold Medal
In 1944, an Appleton, Wisconsin teenager, Armin A. Barth, felt called to support the
nation's war effort. Leaving family and high school behind, he headed to the West Coast. At the time, the War Shipping Administration (WSA) allowed sixteen-year-olds to join the Merchant Marine, needing more men, as President Roosevelt said, to fulfill "the most difficult and dangerous transportation job ever undertaken." The WSA fully understood that the men and women of the United States Merchant Marine were a "vital part" of the war effort, and Mr. Barth became part of our country's "fighting team."
As a Merchant Mariner, he sailed in the South Pacific on the SS Canada Victory (June 24
– August 15, 1944). This vessel later succumbed to a kamikaze attack at the Battle of Okinawa.
He also served on the SS Alcoa Patriot. During his time on this vessel, he met United States
Marine Corps aviators, who encouraged him to join the Marine Corps, which he did on June 9,
1945. He worked as a motor transport heavy truck driver and dispatcher until 1947 and then as a reservist until 1950. After his honorable discharge, he continued to support those who served by shuttling veterans to appointments at the Milwaukee VA.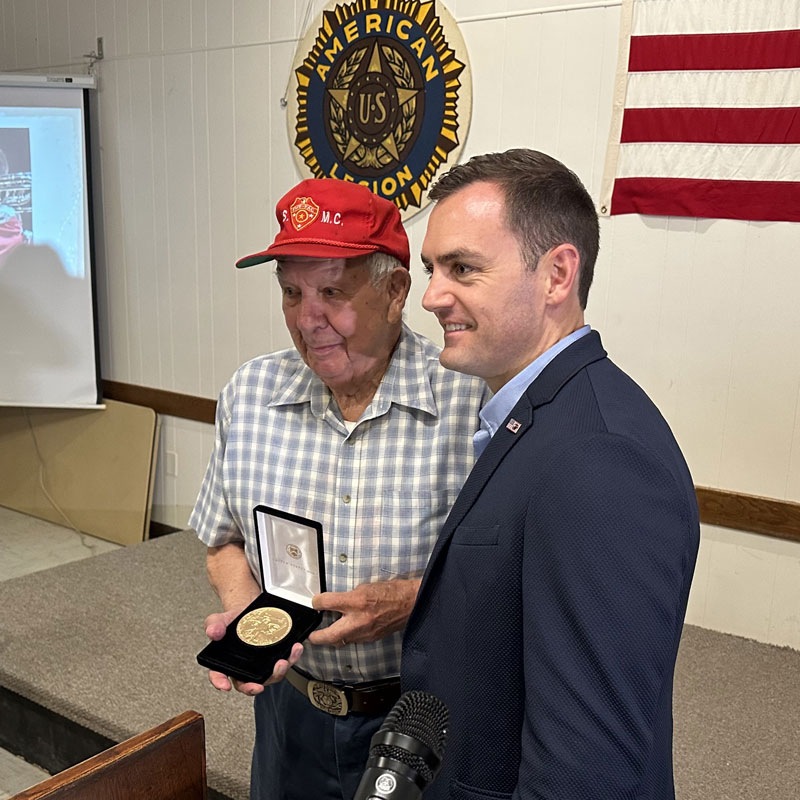 Congressman Mike Gallagher presents Armin Barth with his Congressional Gold Medal for WWII service in the United States Merchant Marine
Although Barth never completed his high school degree, he strongly advocated to family
and friends the importance of earning an education. As heirs of this important advice, his
grandson, Rick Hojan and other family members embarked on a journey of research and planning that brought Mr. Barth, along with friends, community members, and dignitaries to Appleton's American Legion Post #38 on Saturday, June 17. Unbeknownst to Mr. Barth, and under Wisconsin Statute 120.13 (37), on May 8 th the Appleton School District had unanimously voted to honor his service by awarding his high school diploma. On this sunny, June afternoon, Armin and wife, Lois, thought they would be enjoying a simple Father's Day luncheon with local family members. What transpired was so much more. Even many of the attending family members – some who had traveled from various parts of the country – were not privy to all the planned surprises!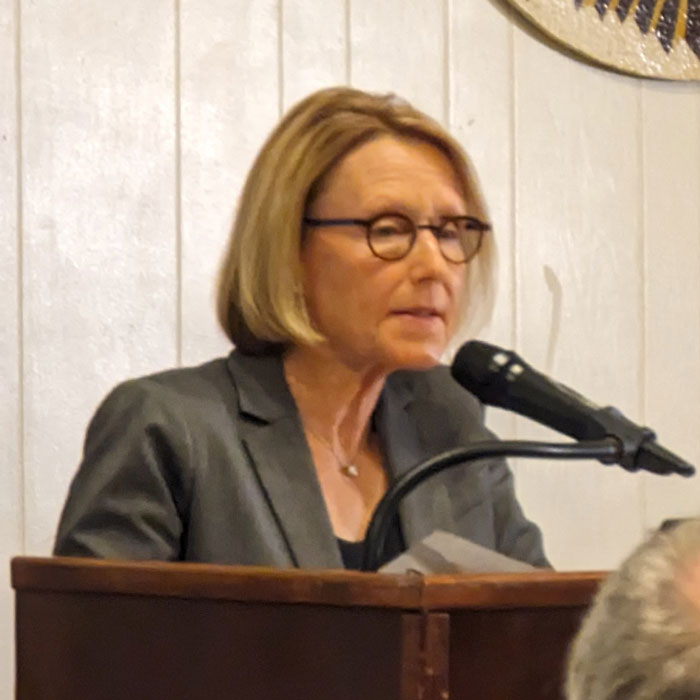 Appleton School Board President Kay Eggert speaks prior to presenting Armin
Barth his high school diploma
A formal ceremony was conducted. Speakers and presenters included Congressman Mike
Gallagher (WI 8 th District), Appleton School Board President Kay Eggert, and AMMV Regional Vice President Capt. Chris Edyvean. Also in attendance was Appleton Mayor Jake Woodford. Barth received his high school diploma, his replica Congressional Gold Medal, and a U.S. Merchant Marine flag. In his presentation, Congressman Gallagher emphasized that the Gold Medal was a testament to the Merchant Marine as "critical to the nation's defense," and read his official Congressional Record entry about Mr. Barth. Reflective of advancements in our country's views toward veterans, Ms. Eggert stated that the skills of service "deserve recognition within the educational community." Captain Edyvean emphasized that "today, we are honoring the service of a sixteen-year-old boy, who answered the call for his country when his country needed him the most. He gave up his todays for our tomorrows." After the presentations, the Marine Hymn and Merchant Marine song were played, honoring Mr. Barth and his fellow countrymen for their service. A celebratory luncheon followed.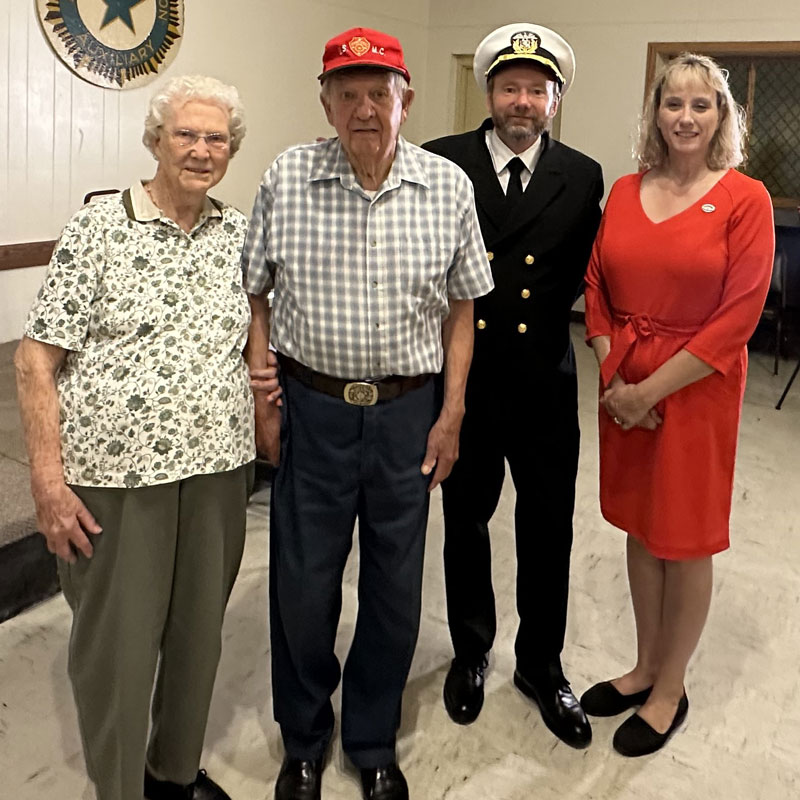 (L to R): Lois Barth, Armin Barth, Capt. Chris Edyvean, Dr. June Klees
Events like these remind us of the intergenerational importance of honoring those who served in World War II and other wars, at home and abroad. Four generations of Armin and Lois's family were present to celebrate a man who gave up a chance to finish one kind of
education for that which he obtained in service to our country during the war. As a history
educator and informal observer to the day's events, it was a joy to watch as attendees shared
stories about the man they were honoring as father, uncle, grandfather, and great-grandfather. When we take the time to learn more about those who helped forge and maintain the freedoms we cherish, we become the living bridge through which their memories are passed on to future generations. In honoring the sacrifices of people like Mr. Barth, we maintain our common bonds as Americans over time and leave the next generation empowered with the knowledge of what came before, so they too may feel pride in all which our country has achieved in the name of liberty.
Dr. June Klees
Member-at-Large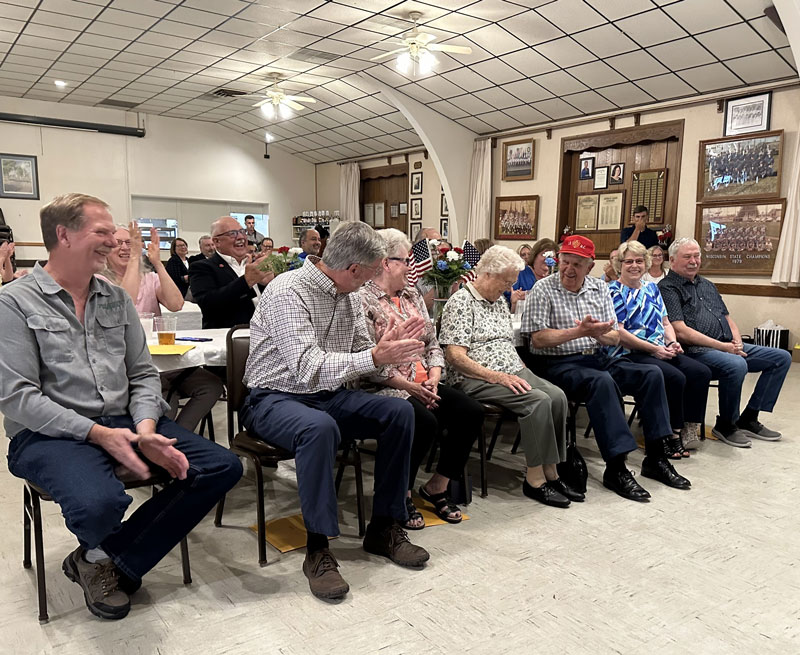 Armin Barth and wife Lois seated in the front row with close family members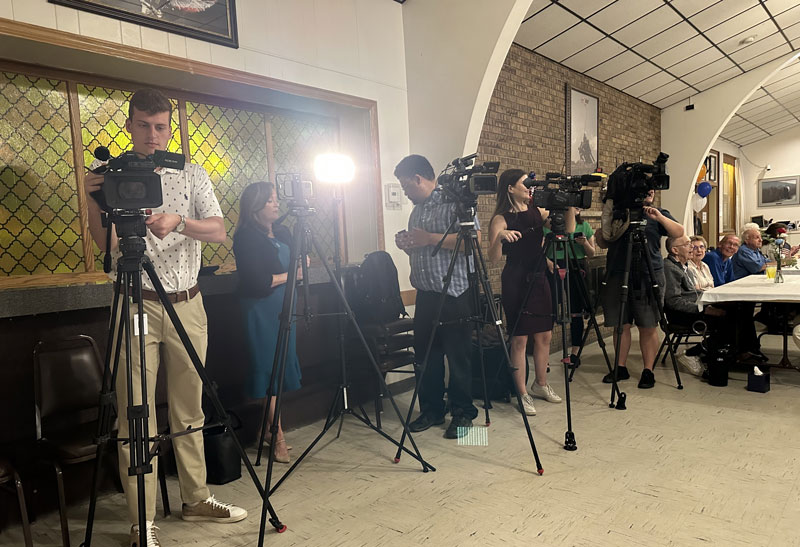 Several media affiliates cover the story, representing most major news networks