Authored by Captain Chris Edyvean
For the first time in the history of Veterans Day, the U.S. Merchant Marine were invited to lay a wreath at the Tomb of the Unknown Soldier, following the national ceremony at the Arlington Memorial Amphitheatre. Earlier in 2023, AMMV represented our WWII Merchant Marine in a similar event on Memorial Day. This level of participation did not come by accident; rather, it was the relentless work of advocates such as AMMV Government Affairs Committee member Pat Cotter, and AMMV National President Capt. Dru DiMattia.
Gathering for a reception at the Sheraton Pentagon City Hotel on November 10 were Captain Dru DiMattia (AMMV President), Captain Chris Edyvean (AMMV National Secretary), Dennis Ng (AMMV Region # 3 VP), Wendy Coble (U.S. Maritime Administration Historian), Dr. June Klees (Bay College/Civics Corp), Courtney Pecquex (International Trade Federation), Mark Gallagher (MEBA Contracts Representative), Roland "Rex" Rexha (MEBA Secretary/Treasurer), Marco Cannistraro (MEBA Director/Special Projects & Communications), Bob Vint (MEBA, retired), Mark DeLatch (MEBA engineer), and Ross Rowlinson (USA Warrior Stories & Rowlinson Media Group). WWII Merchant Marine veterans present for the reception and the ensuing day's events were WWII mariners Charles A. Mills (with granddaughter Veda Handy), Howard Pfeifer (with wife Nancy), Capt. Pete Kurkimilis (with son Steve), and Dave Yoho (with wife Carole). Also joining the group was the Color Guard contingent for the following day, made up of SIU Unlicensed Apprentices Orlando Quirantes, Xavier Roberts, Emma Digennaro, and Caleb Estrada of Class # 901, with their Commandant, John Romer (Seafarers International Union-affiliated Paul Hall Center for Maritime Training and Education).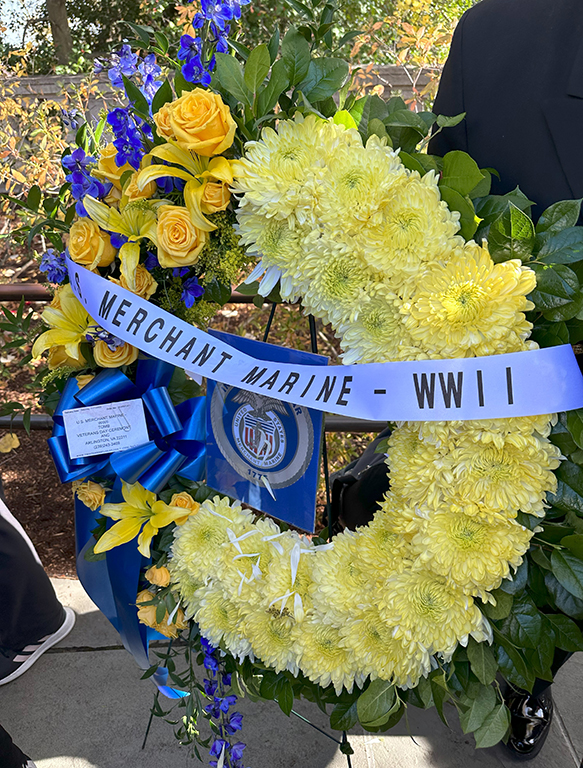 (L to R standing): SIU Apprentices Xavier Roberts, Caleb Estrada, Emma Digennaro and Orlando Quirantes
(L to R sitting): WWII MM veterans Capt. Pete Kurkimilis, Dave Yoho, Charles A. Mills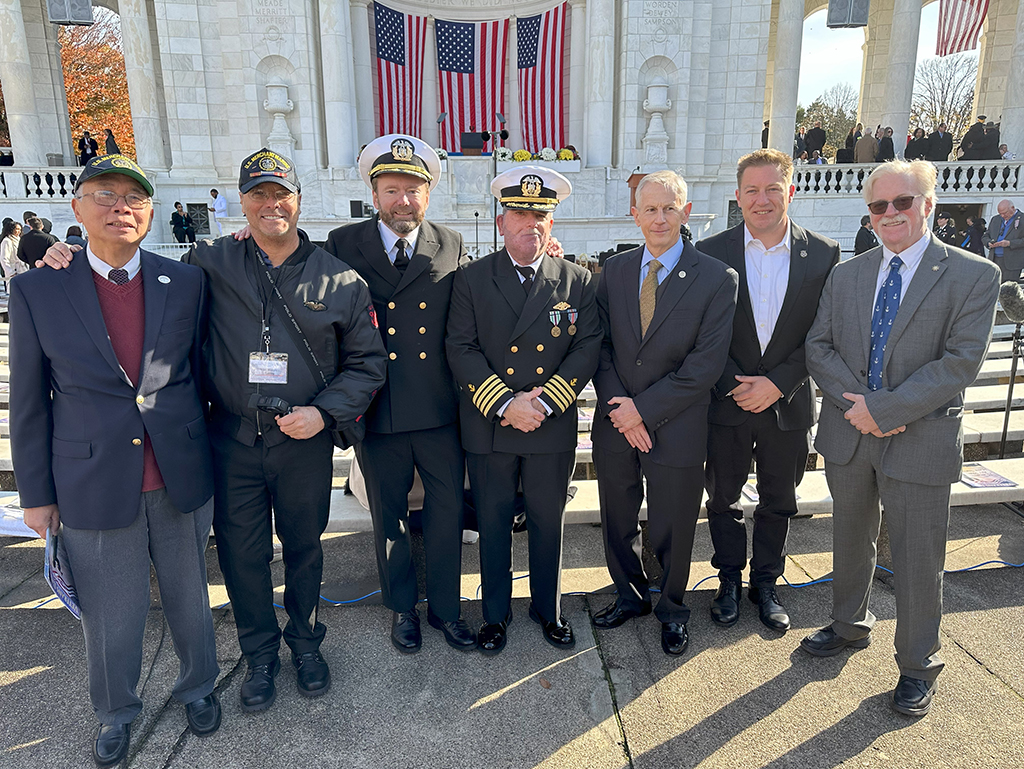 (L to R): Dennis Ng (AMMV Region # 3 VP), Ross Rowlinson (USA Warrior Stories & Rowlinson Media Group), Capt. Chris Edyvean (AMMV National Secretary), Capt. Dru DiMattia (AMMV National President), Jack Kammerer (MARAD Executive Director), Adam Vokac (MEBA President), Capt. Don Marcus (MMP President).
AMMV member Phil Strissel (MEBA, retired) assisted with logistics on both ends of the weekend and donated to cover the cost of catering for the November 10 reception. 
Sponsors for the weekend included Marine Engineers Beneficial Union, International Organization of Masters, Mates, & Pilots, American Maritime Congress, USA Maritime, and Transportation Institute.
The reception allowed for intergenerational dialogue between our Greatest Generation of mariners and those mariners who are preparing for their first shipboard assignment. Charles A. Mills, who stepped foot on his first ship in 1937 and sailed throughout WWII, offered words of advice to the young SIU Apprentices: "Study, study, study… Then, when you get your chance, you will be ready."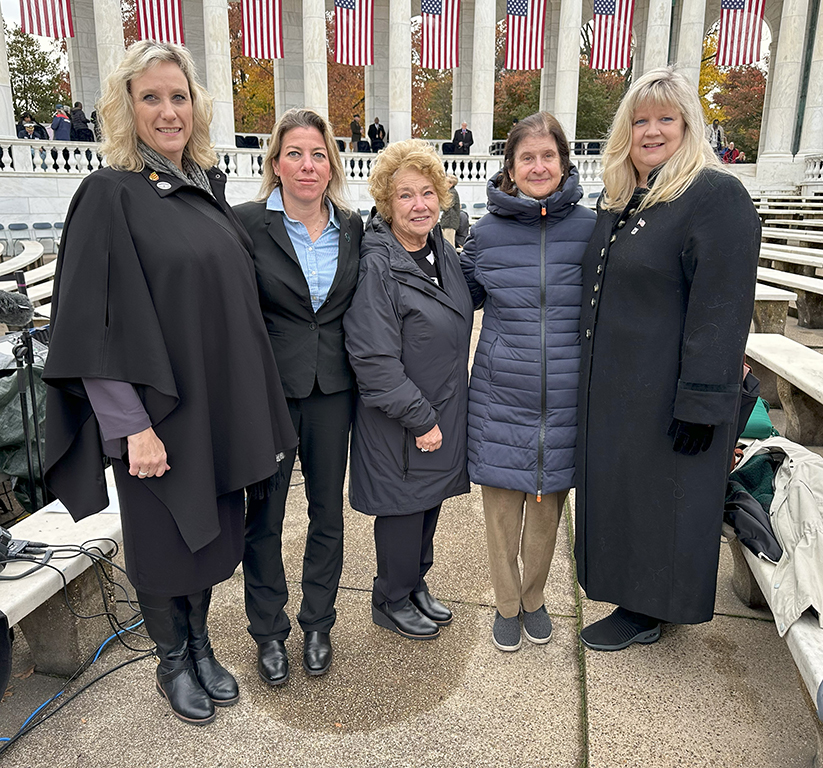 (L to R): Dr. June Klees (Bay College/Civic Corp), Courtney Pecquex (ITF), Linda Pecquex, Judge Joan Zeldon, Wendy Coble (MARAD Historian)
Captain Pete Kurkimilis started his mariner career during WWII, and went on to have somewhat of a legendary career both as a Panama Canal pilot and MMP Captain. He shared sea stories, many relating back to his days as Master on the Sealand SL-7 class containerships.
Another of the attending WWII mariners, Howard Pfeifer of Pennsylvania, is a longtime AMMV member who has been involved in the fight for recognition and has led the AMMV Three Rivers Chapter for several years, also serving many terms as a Regional Vice President. Pfeifer participated in the Murmansk Run during WWII.
WWII Merchant Marine veteran Howard Pfeifer
Renowned speaker and WWII mariner Dave Yoho gave a short speech to the group at large, emphasizing the importance and significance of the day ahead. Mr. Yoho's words also served to educate our young seafarers.
During the afternoon and evening, Ross Rowlinson conducted interviews with the veterans and attendees to be crafted into a documentary of the event.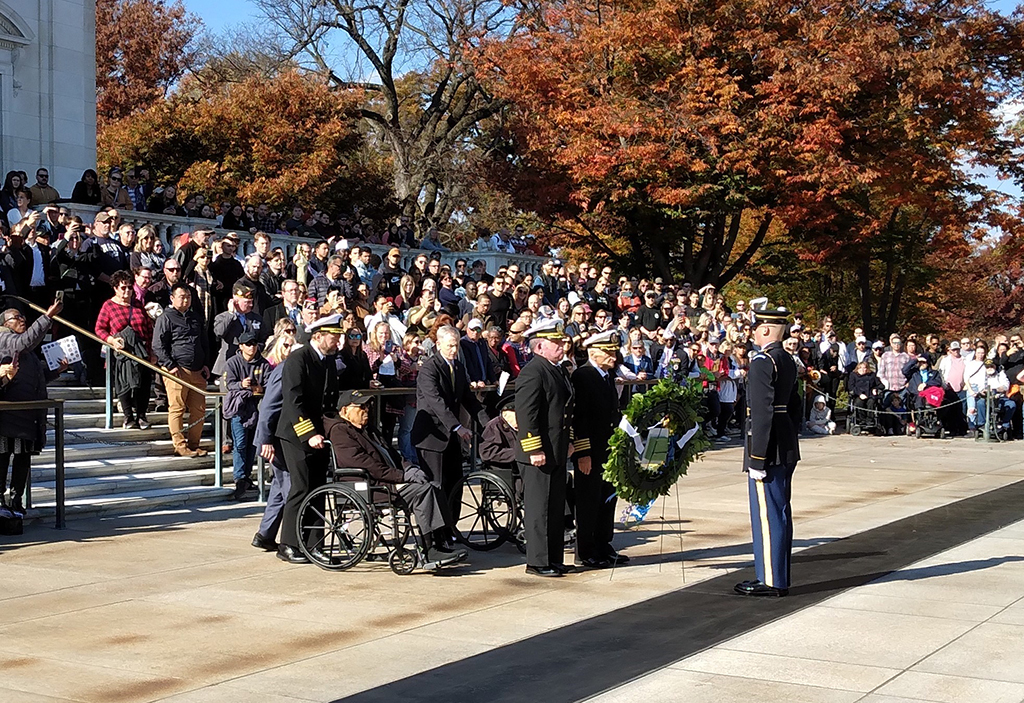 AMMV wreath laying contingent.
On the morning of Veterans Day, AMMV veterans, members, and supporters were bussed to the Arlington Cemetery in the morning so that the veterans could be positioned in their assigned seating areas.
The ceremony opened with selections from the U.S. Air Force Band and Singing Sergeants. During the presentation of Colors, in which many military and auxiliary organizations participated, the four SIU Apprentices proudly carried the American flag, the U.S. Merchant Marine flag, and the SIU flag. President Joseph R. Biden was flown into the grounds via helicopter and placed the first wreath of the day at the Tomb of the Unknown Soldier. Ceremonial remarks were offered by Ms. Karen Durham-Aguilera, Executive Director, Army National Military Cemeteries and Arlington National Cemetery; Mr. Duane Sarmiento, Commander-in-Chief, Veterans of Foreign Wars of the United States; the Honorable Denis McDonough, Secretary of Veterans Affairs; and finally, President Biden. Other dignitaries observing the event included First Lady Jill Biden, Vice President Kamala Harris, and Secretary of Transportation Pete Buttigieg. 
Following the program, guests and participants were repositioned for the wreath laying procession. The AMMV wreath laying contingent, which included all four of our WWII veterans, along with Capt. DiMattia, Capt. Edyvean, and Jack Kammerer, Executive Director of MARAD, were fifth in line to lay a wreath. While awaiting the start, Rep. Mark Takano (CA – District 39), House Veterans' Affairs Committee Ranking Member, and Rep. Mike Bost (IL – District 12), House Veterans' Affairs Chairman, took time to speak with Charles Mills and Howard Pfeifer.
Others in attendance for the program and ceremony included MMP President Capt. Don Marcus, MEBA President Adam Vokac, Courtney Pecquex, Linda Pecquez, Dr. June Klees, Wendy Coble, Dennis Ng, Ross Rowlinson (with a media pass), and the Honorable Judge Joan Zeldon (retired), who as a young attorney was on the plaintiff team in the successful lawsuit won in 1988 which finally granted veteran status to our WWII mariners.
A reception sponsored by the VFW followed, held at the Women's Military Memorial in Arlington. Our veterans and their immediate family members attended.
The weather for this day was cool but with mostly clear skies. It was a great day!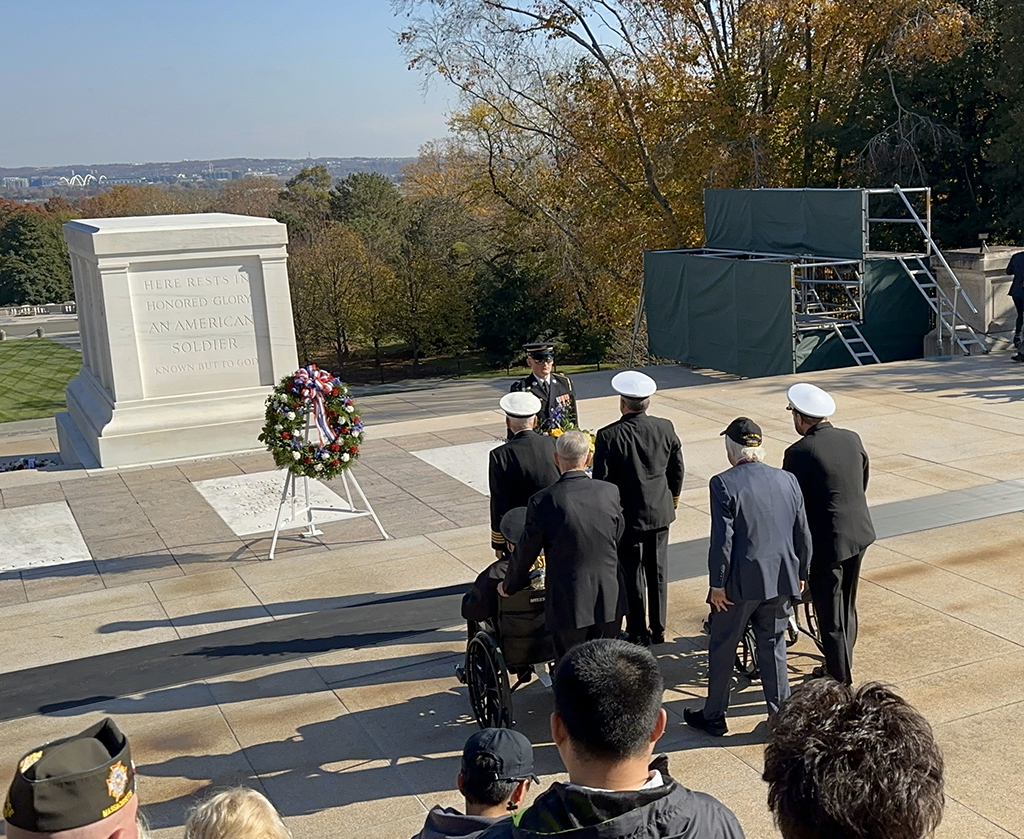 Place an Ad in Our 2024 Commemorative Convention Book!
We extend an invitation to recognize the contributions of the U.S. Merchant Marine, especially our WWII MM, by
placing an ad or page in our commemorative convention book. Chapters, individuals, maritime organizations, and
other groups are urged to participate. Heave Ho! To place an ad, please complete this form >>