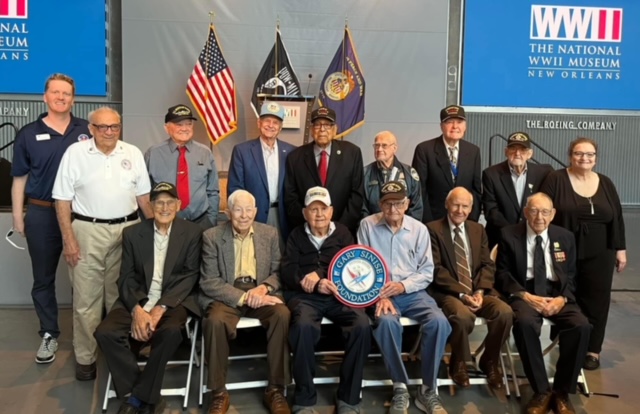 We made history: The largest group of World War II Merchant Marine veterans at one time at the National WWII Museum!
Sheila M. Sova – AMMV National Vice President
The Congressional Gold Medal bronze duplicate arrived at my home a few months ago. It was an emotional experience holding that medal and realizing what it symbolized! Dad, we finally did it! It was almost seven years ago, this past Veterans Day, that I went in front of my town's city council to express dismay that the U.S. Merchant Marine flag was not flying at the city's monument. That was my first ever speech in front of a crowd. I ended my first public speech with, "If I taught one person about the U.S. Merchant Marine WWII veterans, then I have done my job."
That speech sent me on a seven-year journey which included four trips to Washington D.C. Three of those trips were part of the "Storm the Hill" group, and the fourth was to witness history at the official Congressional Gold Medal Ceremony in the U.S. Capitol on May 18th.
Regional ceremonies have since been held on the east and west coasts. It was time for a regional ceremony in the Gulf Coast region. The National WWII Museum in New Orleans seemed like the perfect place. With inviting the general public and including family/friends, this event was sure to be a crowd pleaser.
I reached out to the National WWII Museum and the Gary Sinise Foundation, and quickly received a positive response. Soon afterwards the venue, travel, and lodging were arranged. Both of these nonprofits provided our WWII USMM veterans with an unforgettable trip to New Orleans. The Gary Sinise Foundation funded the travel and lodging for each veteran and guardian as well as their hotel stay at the attached Higgins Hotel. The brand-new hotel was named for Higgins WWII boats. The Higgins Hotel in its Art Deco 1940's flair was the perfect "time traveler" destination for the members of the Greatest Generation.
Our favorite dinner hangouts were Kilroy's and Rosie's Rooftop. Enjoying crab beignets and shrimp po boys while overlooking the skyline of New Orleans at night is a once in a lifetime experience. Breakfast at Café Normandie was not for the light or picky eater. Shrimp and grits, crawfish, Eggs Benedict, smoked salmon, and breakfast potatoes were some of the French Cajun cuisine attracting folks to the breakfast table each morning.
The quickest way to reach our members and non-members who had not yet received the Congressional Gold Medal was to post on social media using Facebook and Twitter. Numerous requests came from family members of the veterans. All but three of them were AMMV members and now, those three have become members as well as some of their family.
In the spring of 2022, I was contacted by Joel Whitehead, President of the International Propeller Club of New Orleans. I reached out to Joel when plans were set for the New Orleans events. Joel sent out emails to the maritime industry seeking donations. A total of 15 organizations ultimately contributed to help fund various segments of events; specifically, the American Maritime Congress, American Maritime Officers, American Maritime Partnership, American Waterways Operators, Catholic War Veterans, Gary Sinise Foundation, International Propeller Club, International Propeller Club – New Orleans Chapter, J. Whitehead & Associates, Jones Walker Law Firm, K & L Gates LLP, Maritime Institute of Research and Industrial Development, National WWII Museum, Navy League of the U.S. – New Orleans Chapter, Transportation Institute, and the Kings Point Alumni – New Orleans Chapter. For those groups and individuals, we cannot thank you enough for all of your support. It was obvious that our sponsors have never forgotten these brave heroes!
A total of thirteen veterans were registered for this event. Included in the group was the fourth WWII Merchant Marine female to be granted veteran status, 101-year-old Dr. Billie Adels Pennings. Dr. Pennings crossed the bar just three weeks prior to the New Orleans event. A tribute was mentioned at the ceremony. Although I never met Dr. Pennings in person, I am grateful that I got to speak to her on the phone for an interview.
One non-AMMV member came from California with his family. The family had planned to visit the WWII Museum as a gift for their 93-year-old WWII USMM veteran father. After three years of canceled trips, the family just happened to pick the weekend of October 1st to come to New Orleans. The family had looked through the events for the National WWII Museum only to discover that the WWII Merchant Marine were being honored during their weekend stay. Wayne White ended up joining us the entire weekend and is now applying for the Congressional Gold Medal. Fate played a big role in Mr. Whites weekend!
Many of the veterans had received their Congressional Gold Medal in the mail. But having Kevin Tokarski, Associate Administrator for Strategic Sealift/MARAD, shake their hand and utter these words, "On behalf of a grateful nation, we thank you", was emotional for every person in that audience. The veterans teared up as each had their picture taken by a staff photographer with Mr. Tokarski and the CGM.
Awarded their CGM's at the event was Lawrence Nunnink of California, Billy Boyd of Texas, and Donald Sperier of Louisiana. Mr. Sperier was one of three local residents from the New Orleans area, joining Mark Oncale and William Feaheny. Also from New Orleans were AMMV members Joanne and Ron Campana who were the "boots on the ground" in NOLA. From decorating the hospitality room to providing snacks for everyone, they even hunted down Donald Spierier two days before the event, who was unaware that a Congressional Gold Medal was waiting for him!
Ron Campana, a Kings Point Alumni, discovered that both Mr. Feaheny and Mr. Sperier were graduates of Kings Point. The Campanas plan to continue a friendship with all three local veterans. Mr. Oncale owned a seafood company but now enjoys time in his vegetable garden, giving most of his vegetables away. Joanne was the recipient of a large bag of okra and cucumbers. New Orleans hospitality was certainly welcoming!
AMMV members Veda Handy and Justine Wong volunteered when needed. Justine brought an entire entourage of eight, including Edmond Gor, former President of the Chinese American WWII Veterans group. She and her crew ventured out and took Charles Mills and granddaughter Veda on a whirlwind tour of New Orleans. Charles kept up with the group, hopping trolley cars, riding ferry boats, and visiting restaurants. Susan Barr of Ohio Honor Flight assisted wherever she was needed. This event could not have happened without all the volunteers who shared part of their weekend.
The ceremony was filmed live on October 1st, 2022 from the National World War II Museum in New Orleans. Immediately after the ceremony, I received an email from representatives of the United Kingdom Battle of the Atlantic Foundation who had watched the ceremony live. A standing ovation was given to the veterans. The Victory Belles sang the National Anthem and Heave Ho My Lads on stage during the ceremony. The Master of Ceremonies was Kenneth Corn, Vice President of the Veterans of Carolinas Museum, website: https://theveteransmuseum.org.
Speaking at the ceremony was Stephen Watson, President & Chief Executive Officer of the National WWII Museum and Pete Crean, Vice President of Education and Access. Kevin Tokarski spoke and Ken Corn introduced each veteran with a brief bio. I was then introduced as National Vice President of the American Merchant Marine Veterans organization. It was my honor, along with Charles Mills, to donate a Congressional Gold Medal duplicate on behalf of the AMMV. (President DiMattia was battling Hurricane Ian that had just hit Florida, preventing himself and veteran Jim Sciple from attending this event.)
Afterwards, a lunch was held in which the Victory Belles trio held a "meet and greet" with our veterans. They sang Happy Birthday to both Harold Wellington (98) and Maxwell Nelson (101), and cupcakes were served. On Sunday, the veterans and their guardians were led by docents for a tour of the WWII Museum. Recommended is the 4-D movie narrated by Tom Hanks, Beyond All Boundaries which is shown daily in the Solomon Victory Theater. The 4-D movie was a wonderfully immersive experience that provided a world-view of the events leading up to and throughout the war. Just remember to hold on to your seat when the explosions and gunfire start! It's not for the faint of heart!
Seven years ago, I joined this organization to carry on the legacy of my father, Orville Lee Sova. The highlight of my time with AMMV culminated with this event at the National World War II Museum. Recognizing the WWII U.S. Merchant Marine on stage was the ultimate crown in a royal palace known as the National WWII Museum. Even Kevin Tokarski commented that this event was one of his best days as a MARAD employee! I can say with certainty that this too was one of my best days as an AMMV member.
Incidentally, the Gary Sinise Foundation offers year-round complimentary trips for WWII veterans and guardians, including hotel stay and airport transportation to the National WWII Museum. Call or email them and ask for the Soaring Valor program for WWII veterans. Contact Tom Gibbs: tgibbs@garysinisefoundation.org
The October 1st ceremony may be viewed online at: https://youtu.be/-3EWBOmnNCQ
The photo collection for this event may be viewed here.