A special 100th birthday celebration was held in late October for WWII Merchant Marine veteran & AMMV member, "Big John" Ed Laughton. Over 100 family members and close friends attended the party. Following the AMMV National Convention in September, which Laughton attended with several family members, representatives from AMMV were also invited to his birthday party.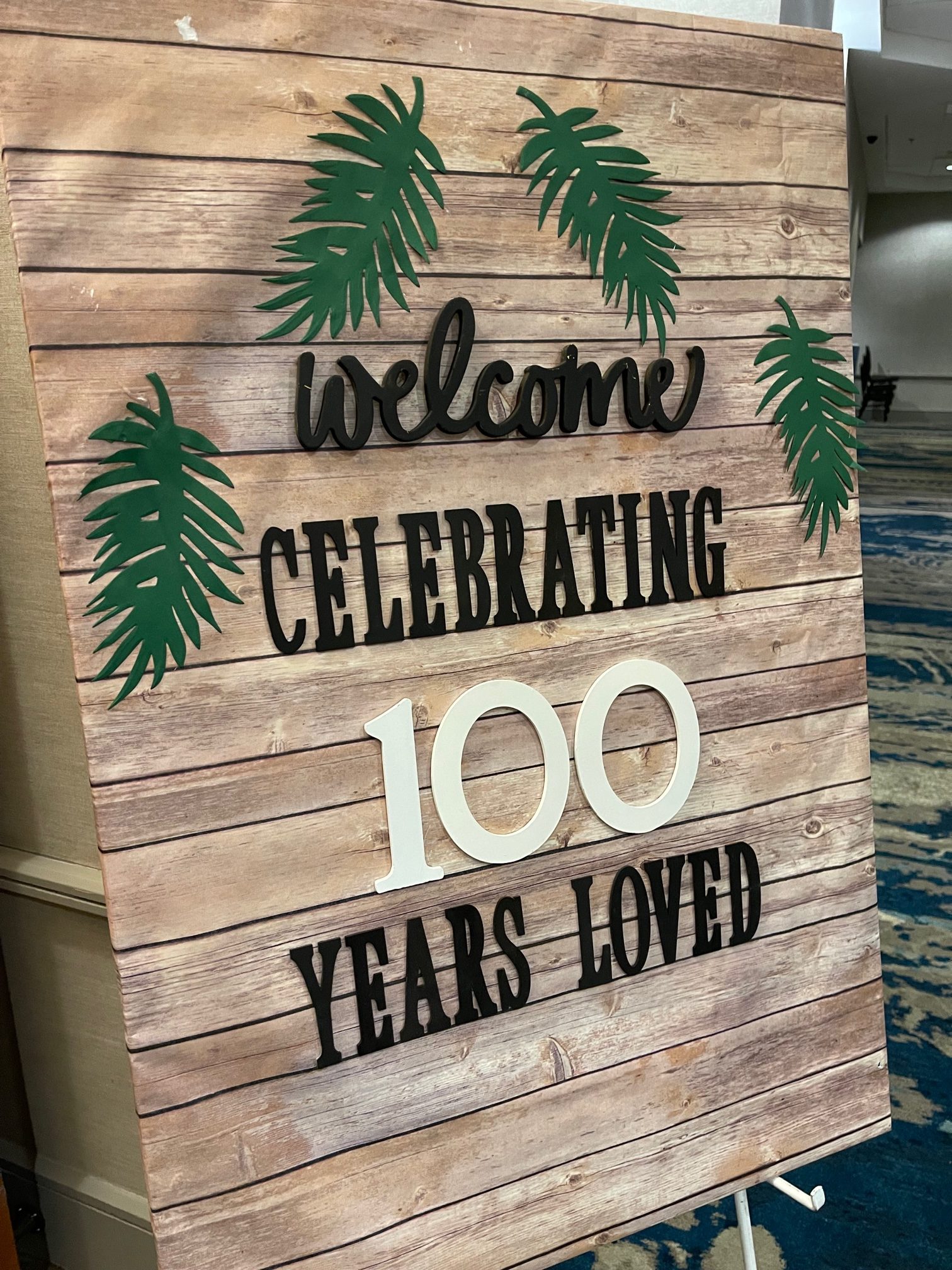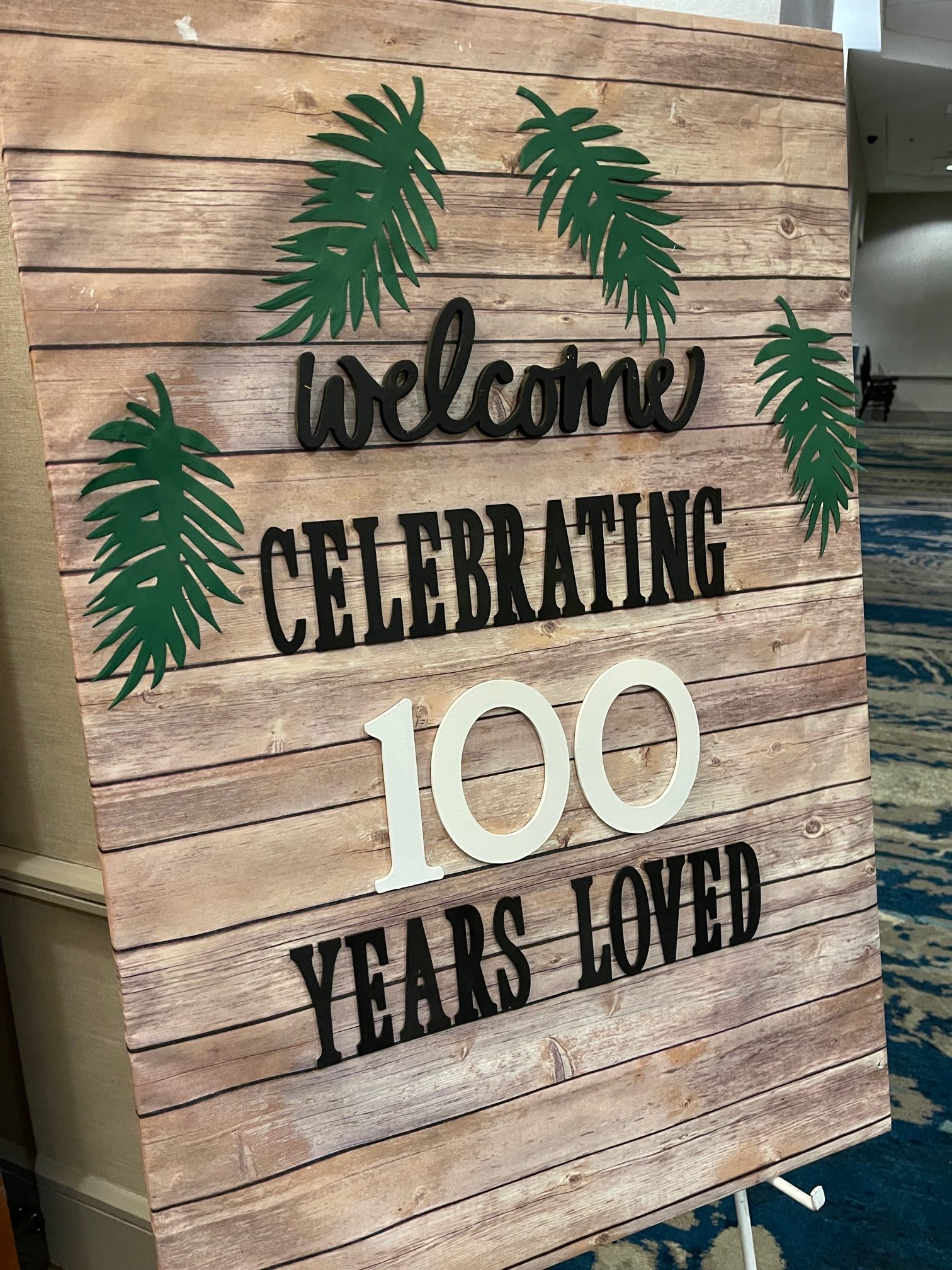 Laughton was serving as Second Officer on the SS Hobbs Victory when the vessel was attacked and struck by a Kamikaze on 4/06/1945. The vessel, which had been assigned to transport supplies for the Battle of Okinawa, was a total loss following this incident. A dozen or more crew members were killed, including Alexander W. Harris, one of the "142" Kings Point midshipmen who lost their lives during WWII in service to our country.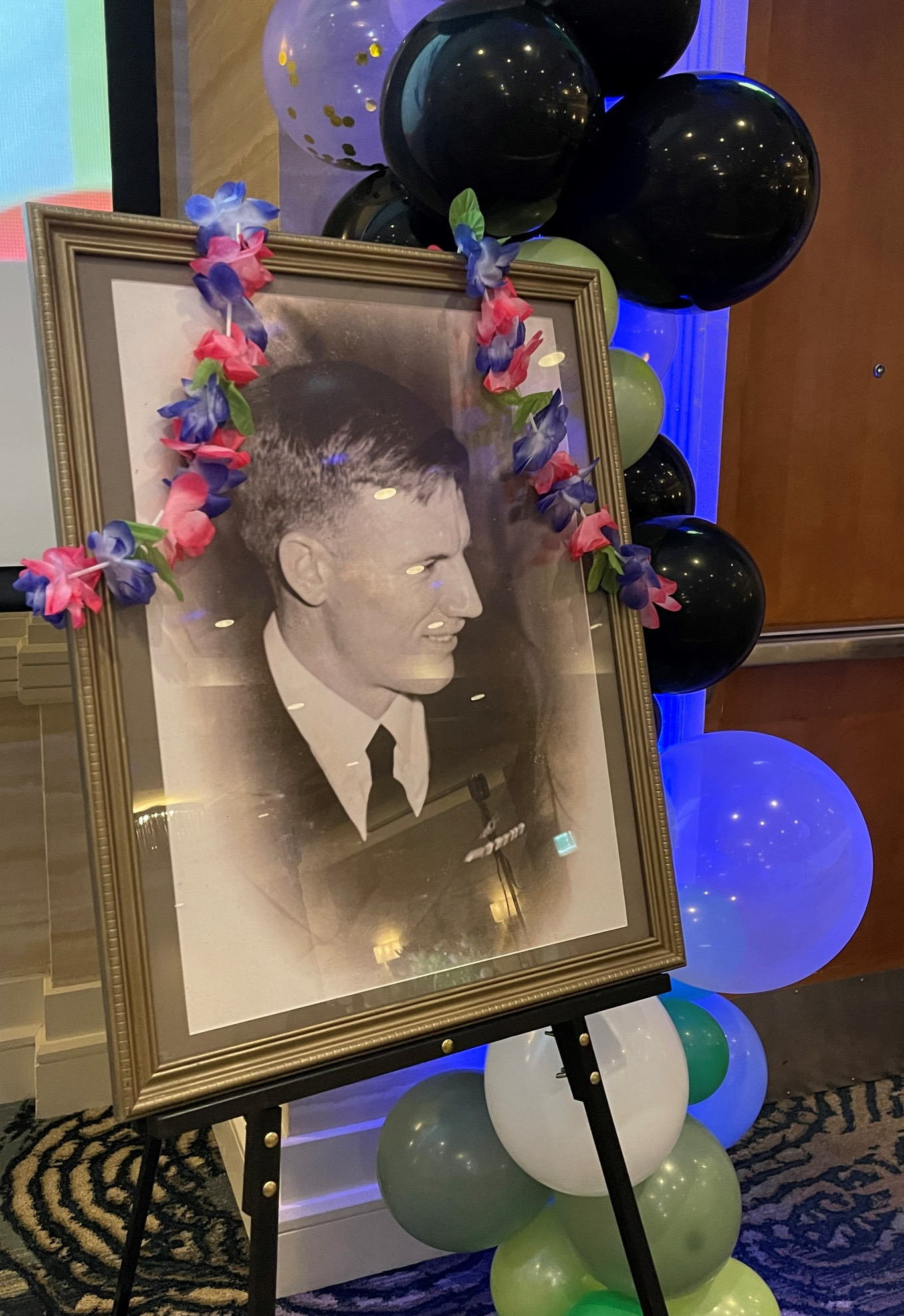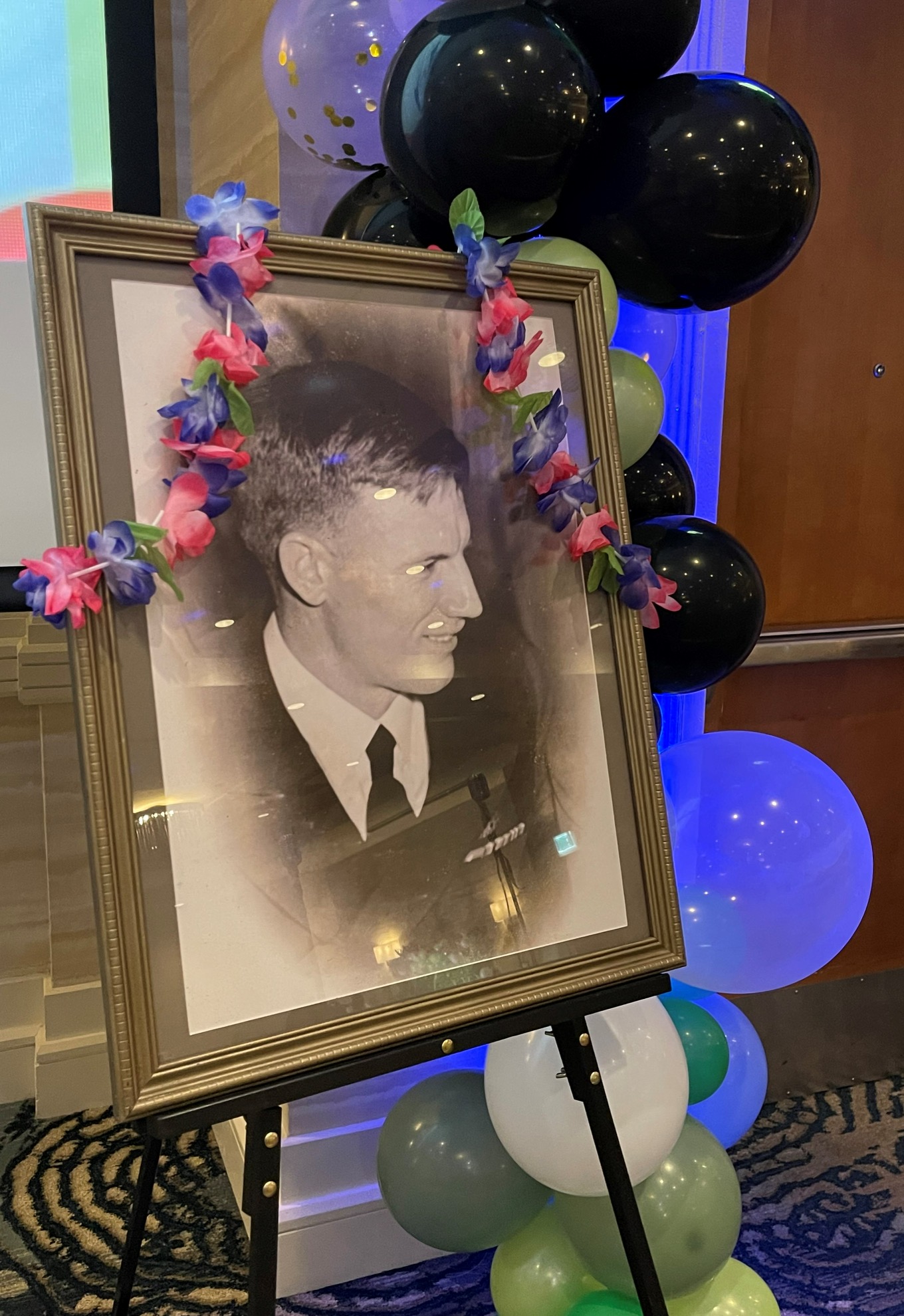 Ed (aka "Big John") Laughton, circa 1945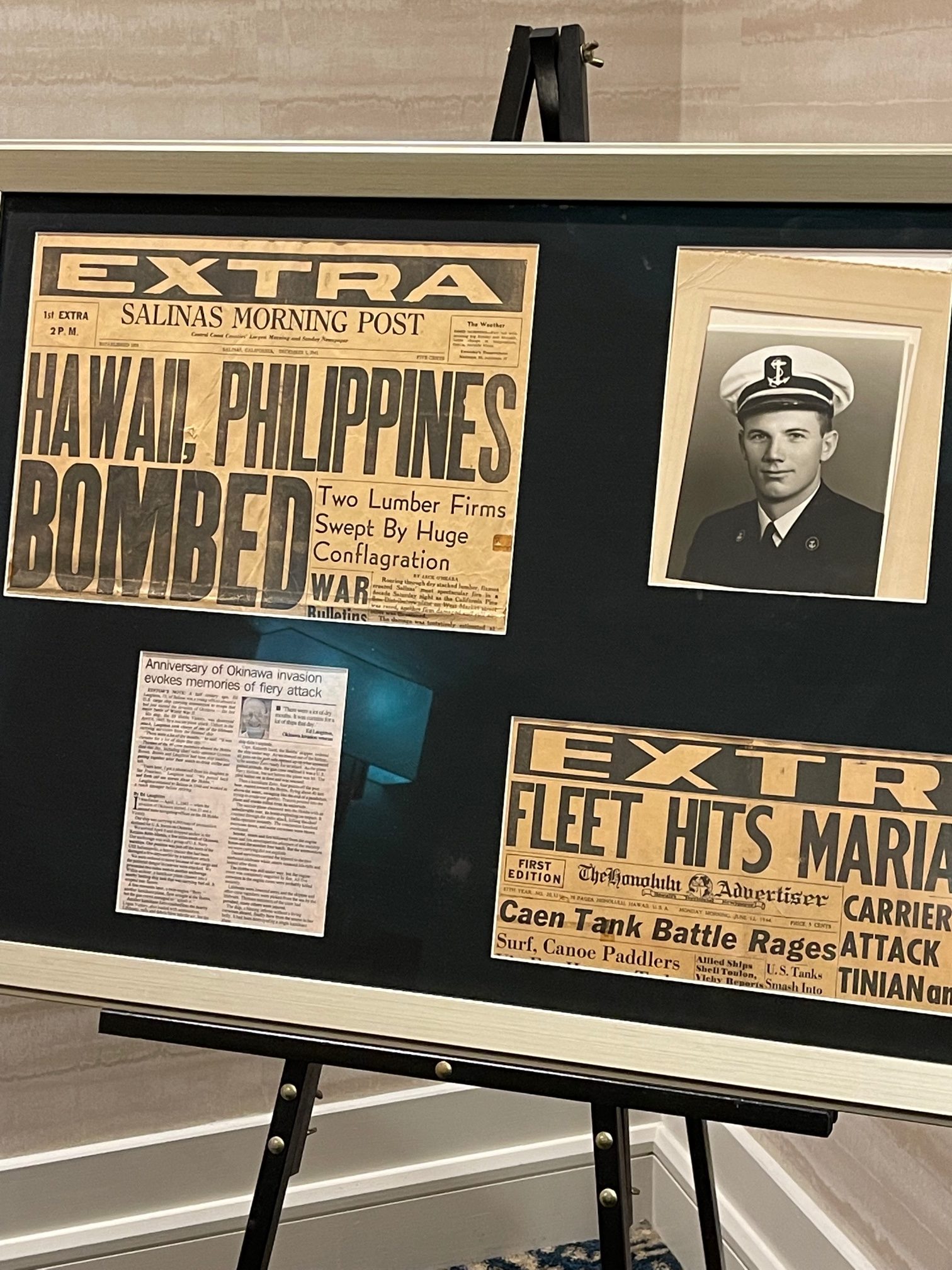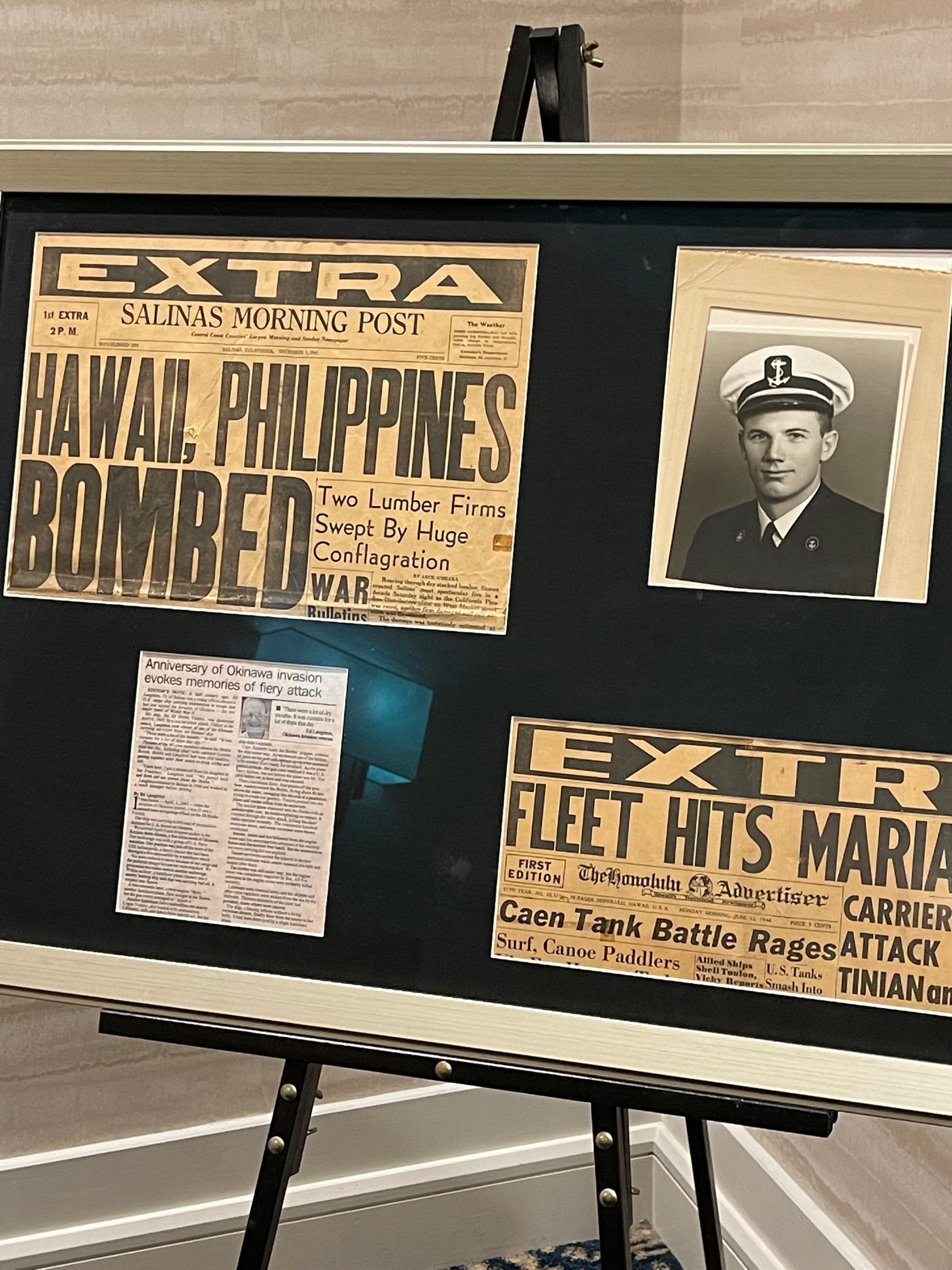 Ed's granddaughter Betsy Mount and her husband James, who were among the family members with him at the AMMV National Convention, were the primary organizers of the birthday event. The party featured Hawaiian/luau themed decorations and entertainment, with various family members singing and dancing. A huge WWII memorabilia area was set-up in a corner of the room, which included photos from the recent AMMV convention and Laughton's Convoy Cup medallion, certificate, and letter. The party even had a photo both and tiki bar! Following dinner and formalities, a D.J. took over and the dance floor came alive.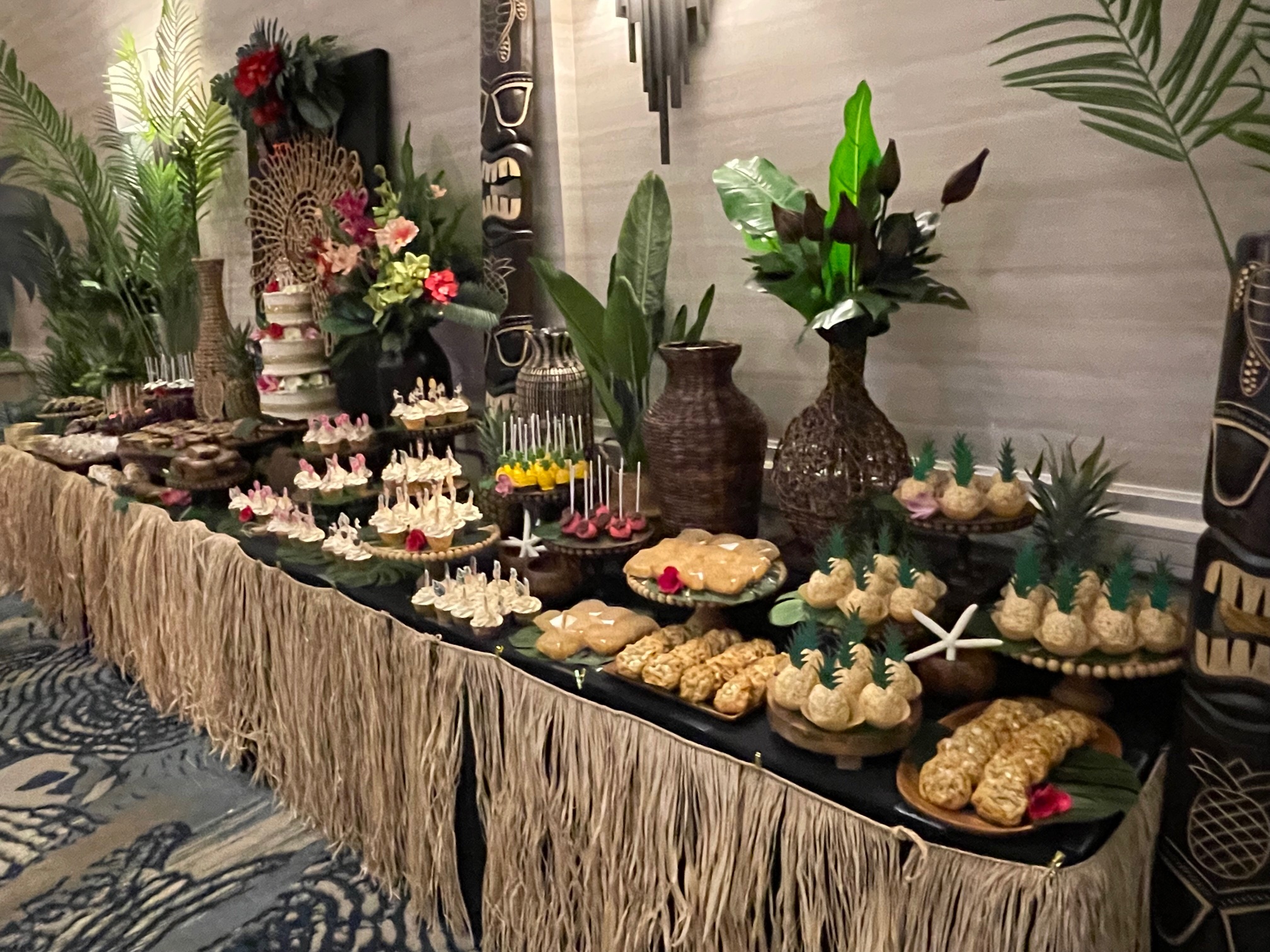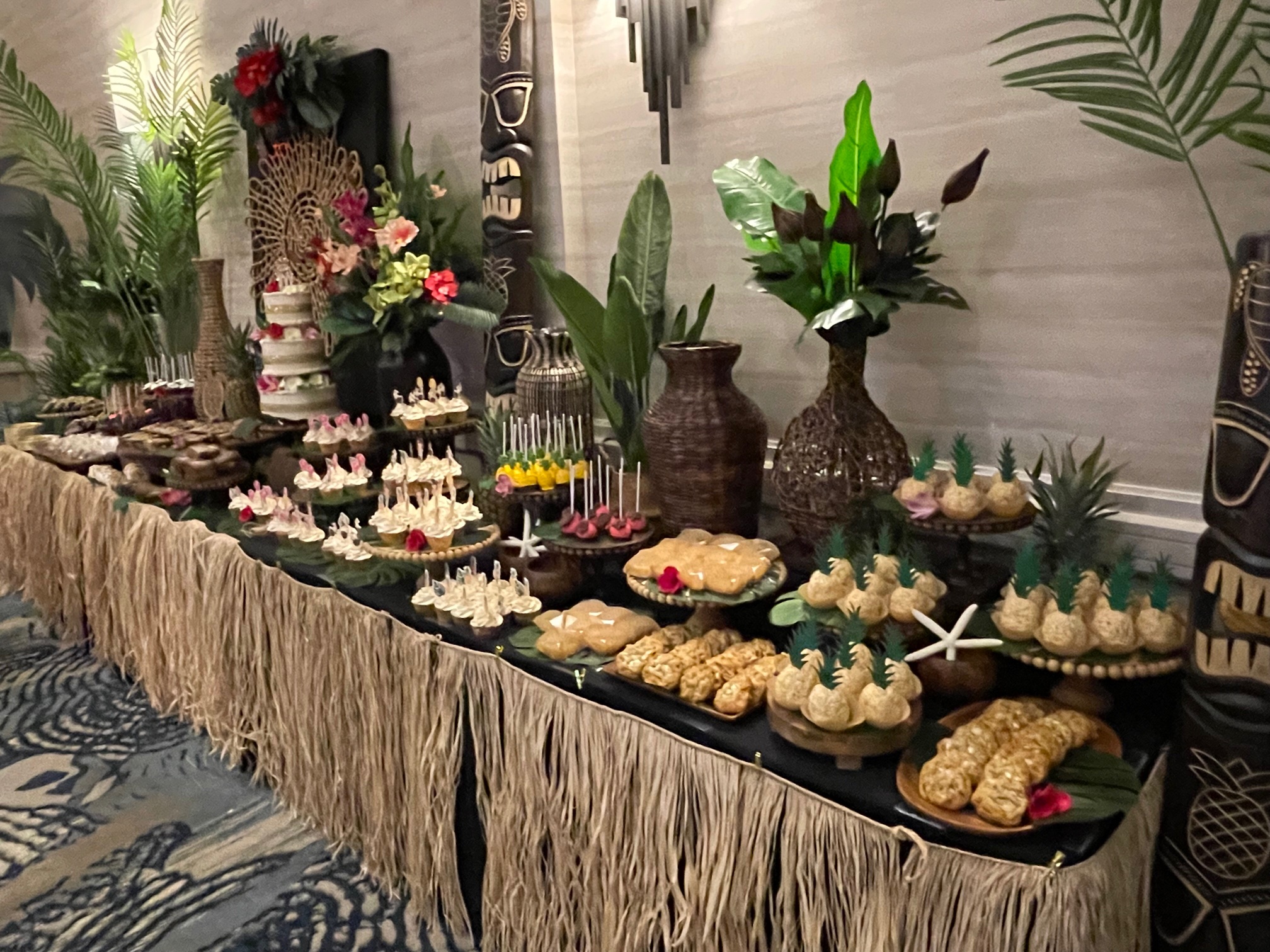 Ed's party included an impressive selection of exquisite desserts and a sparkler cake
Representing AMMV were Christian Yuhas (Region # 8 Vice President), Capt. Chris Edyvean (AMMV News Editor & Past National President), and Laura Riddle (Outstanding Volunteer recipient).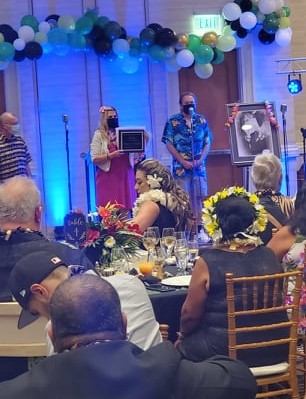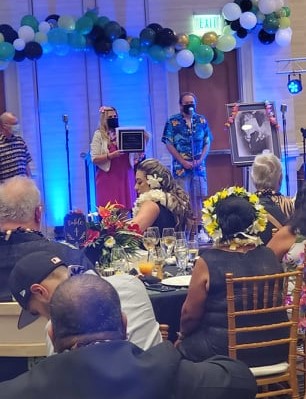 L to R: Christian Yuhas, Laura Riddle, Capt. Chris Edyvean.
Early in the program, the family played a 5-minute video clip of Laughton's trip to the Baltimore/D.C. area for the AMMV convention. Following the video, the three AMMV representatives were called up to the podium to offer some special presentations to Mr. Laughton. First, he was given a framed letter from the Kings Point Alumni group, which commemorated his 100th birthday milestone. Next, on behalf of MARAD, AMMV presented Second Officer Laughton with the Mariner's Medal, of which he qualified due to his involvement in combat during the Hobbs Victory attack. Finally, he was awarded the American Legacy Recognition plaque from AMMV. (These materials were later moved to the memorabilia area for all to see.) The three AMMV reps then each took a few moments to speak to the Laughton family.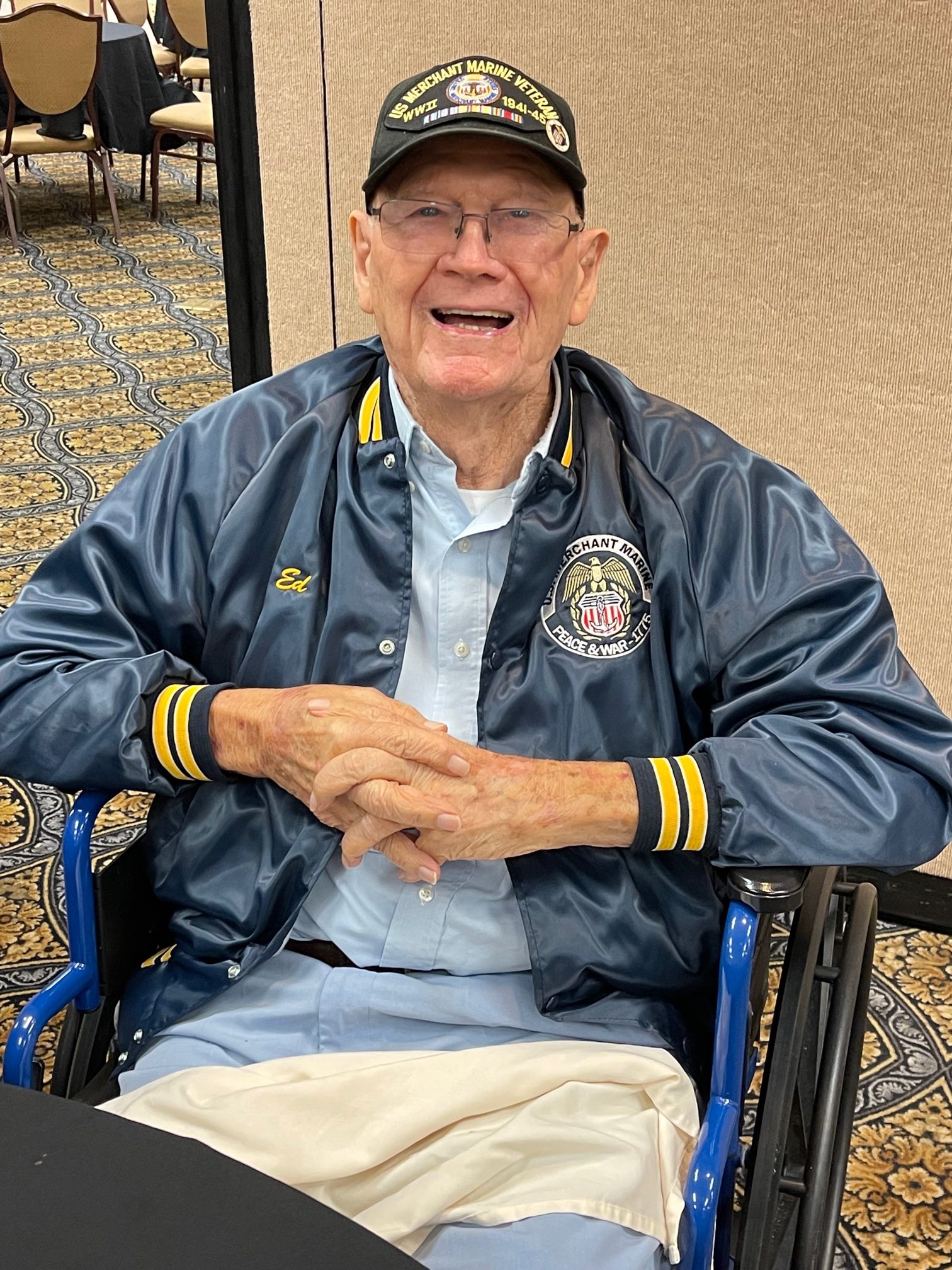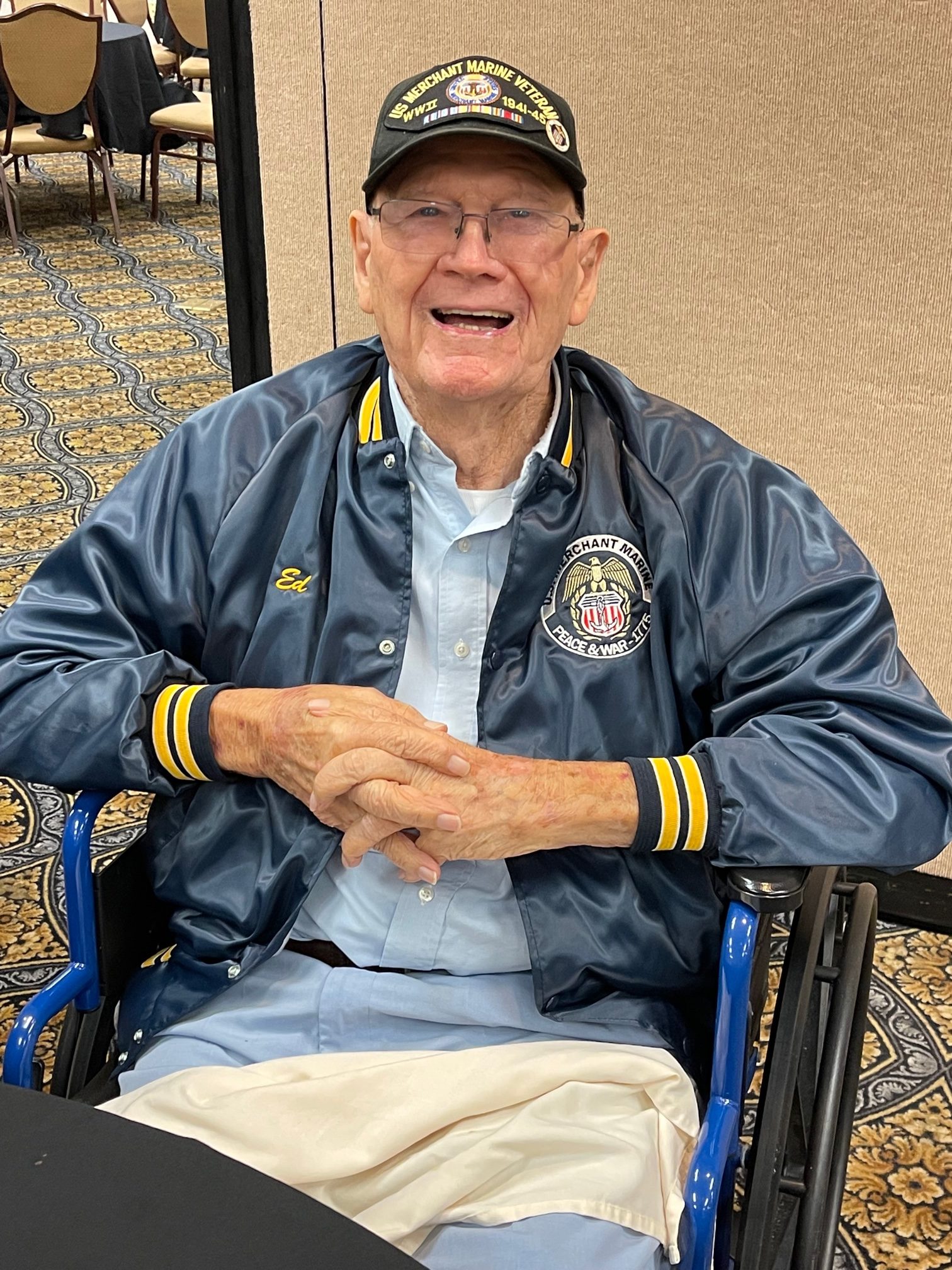 Ed Laughton at AMMV convention in September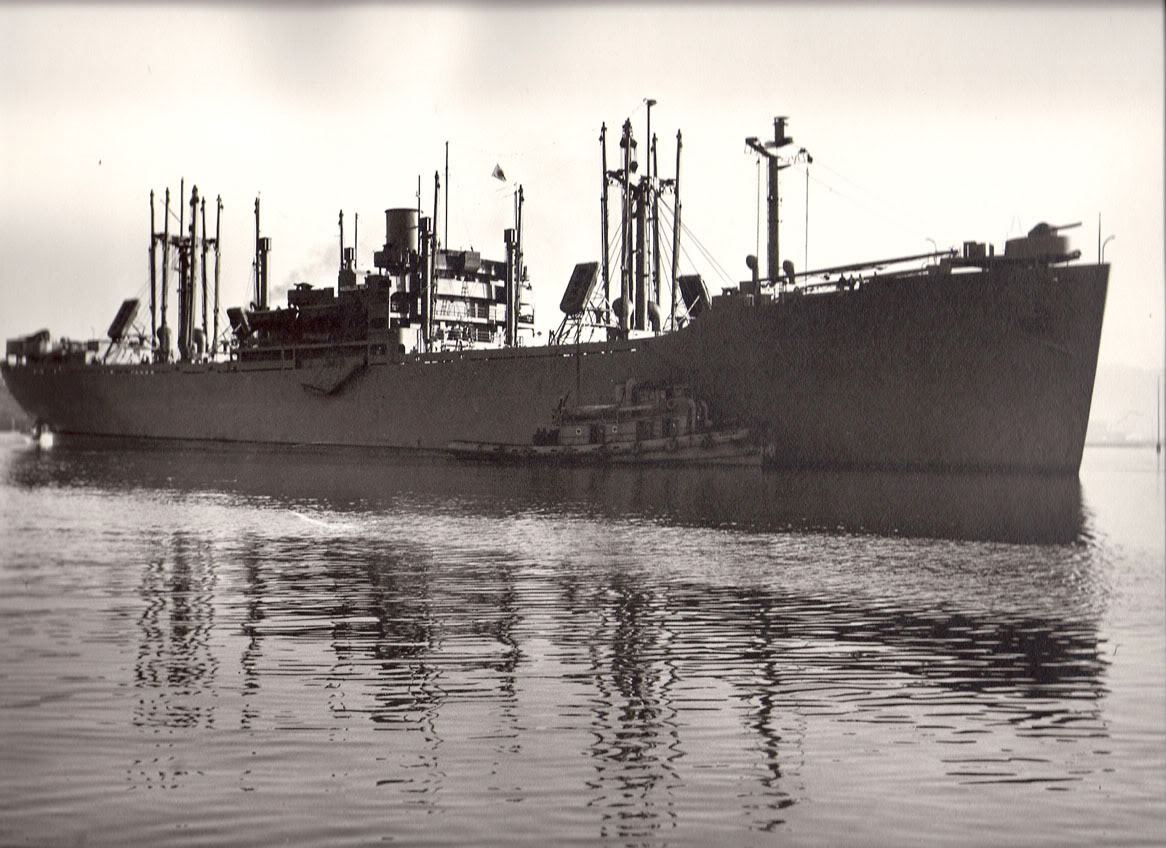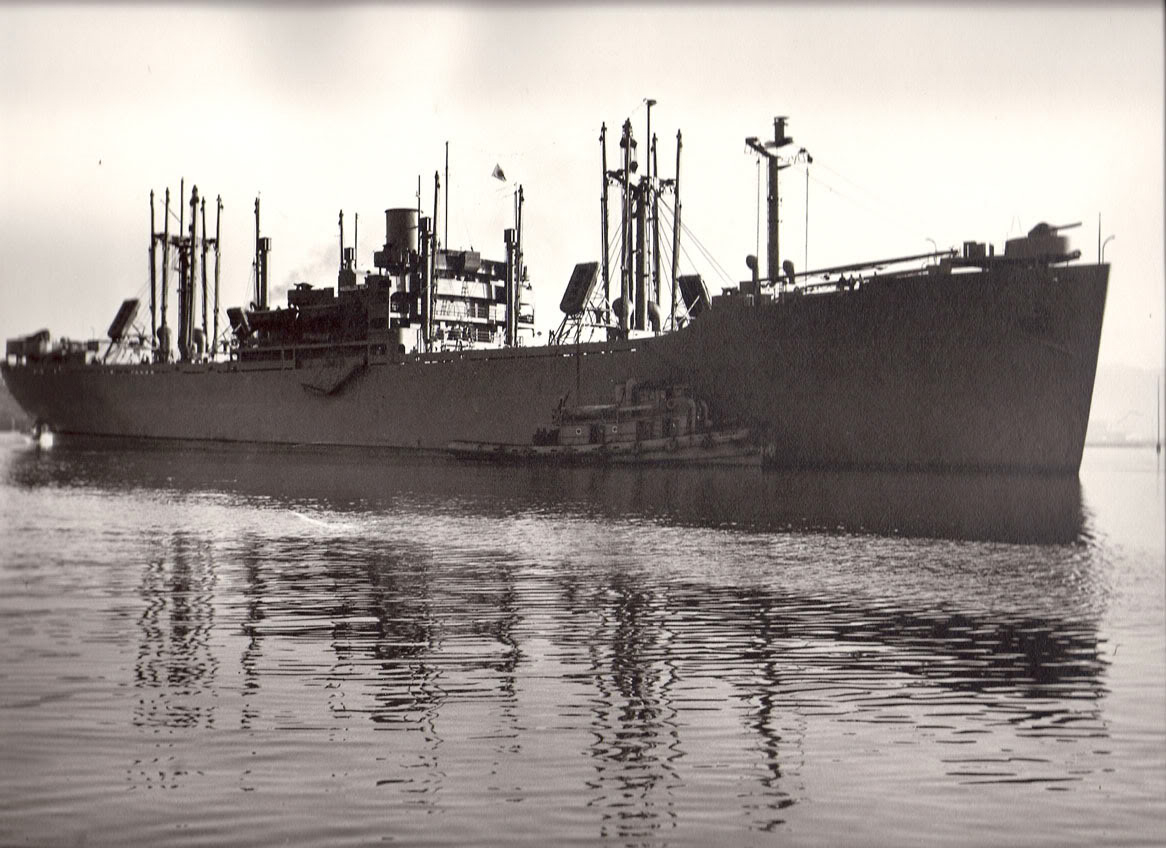 SS Hobbs Victory (source: www.railsoft.com)
However, these pieces of recognition were not the only surprises in store for 100-year-old WWII veteran Ed Laughton. A bit later in the program, granddaughter Betsy announced that there would be a special guest speaker. She introduced Hervey "Chic" Brooks, the only other known living survivor (Able-Seaman) from the Hobbs Victory Kamikaze attack in 1945. AMMV Vice President & outreach specialist Sheila M. Sova had located Mr. Brooks and did the initial legwork which resulted in his surprise attendence; Brooks was accompanied by his grandchildren Jeremy and Emily.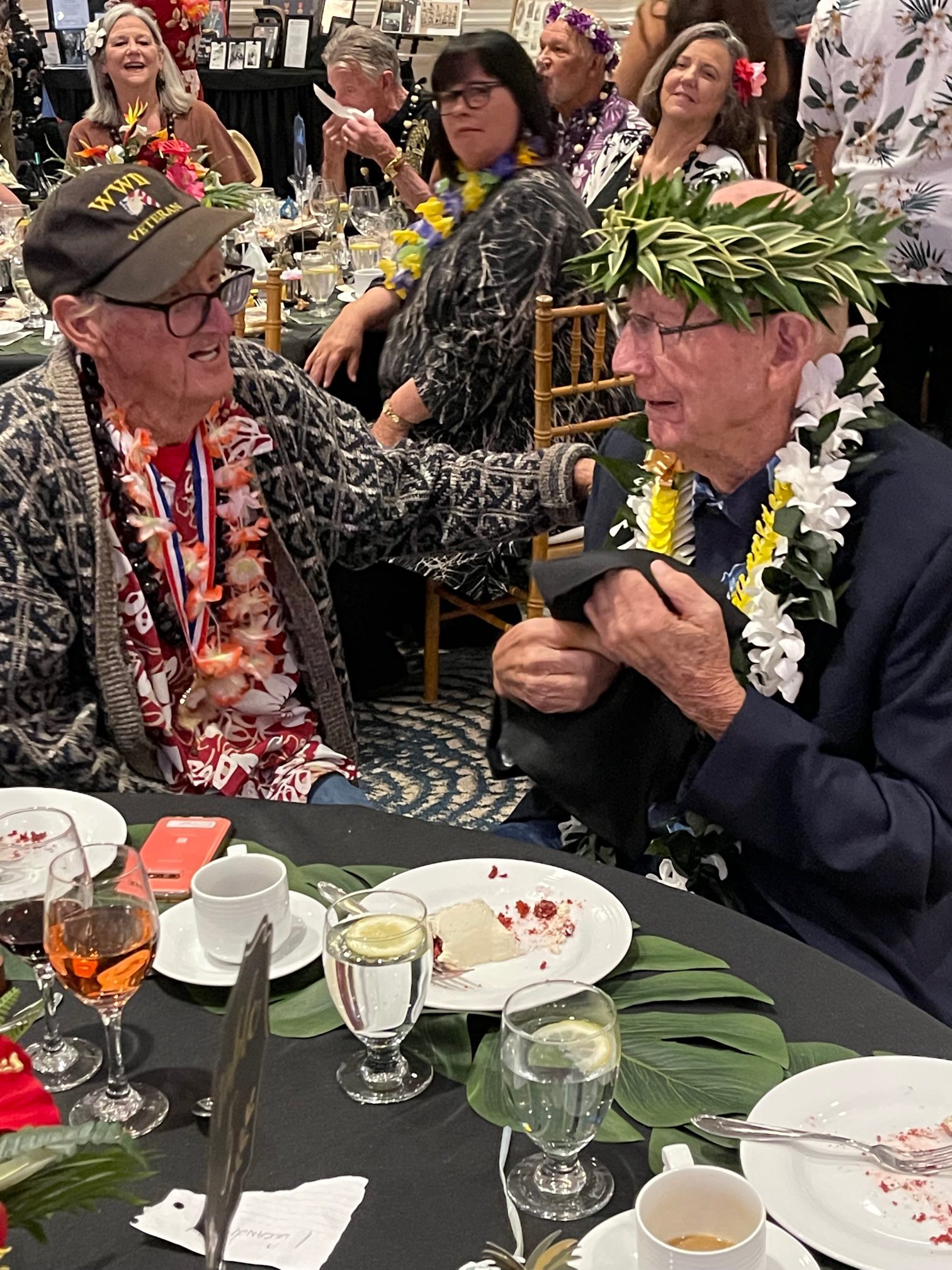 Hervey "Chic" Brooks (left) and Ed Laughton reunited for the first time since attack on Hobbs Victory
On his way up to the podium, Chic joked to his former shipboard superior officer, "I wasn't sure why I was supposed to be here, I thought you were calling me out to wash the decks!" Chic spoke for about ten minutes in telling his own story of his life in the aftermath of WWII and the Hobbs Victory attack.
During a later break in the program, AMMV surprised Chic Brooks with the Convoy Cup award and an American Legacy Recognition plaque.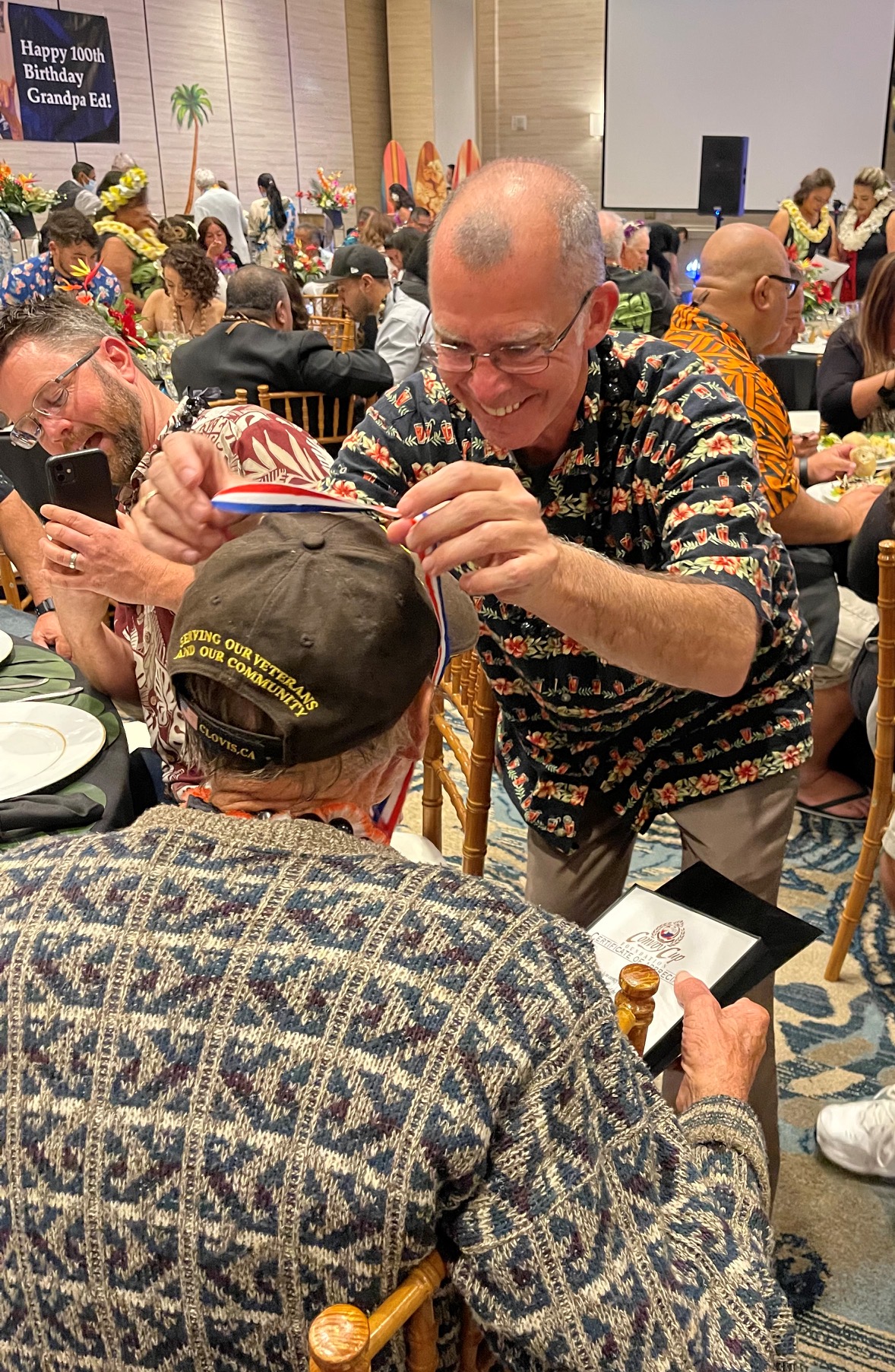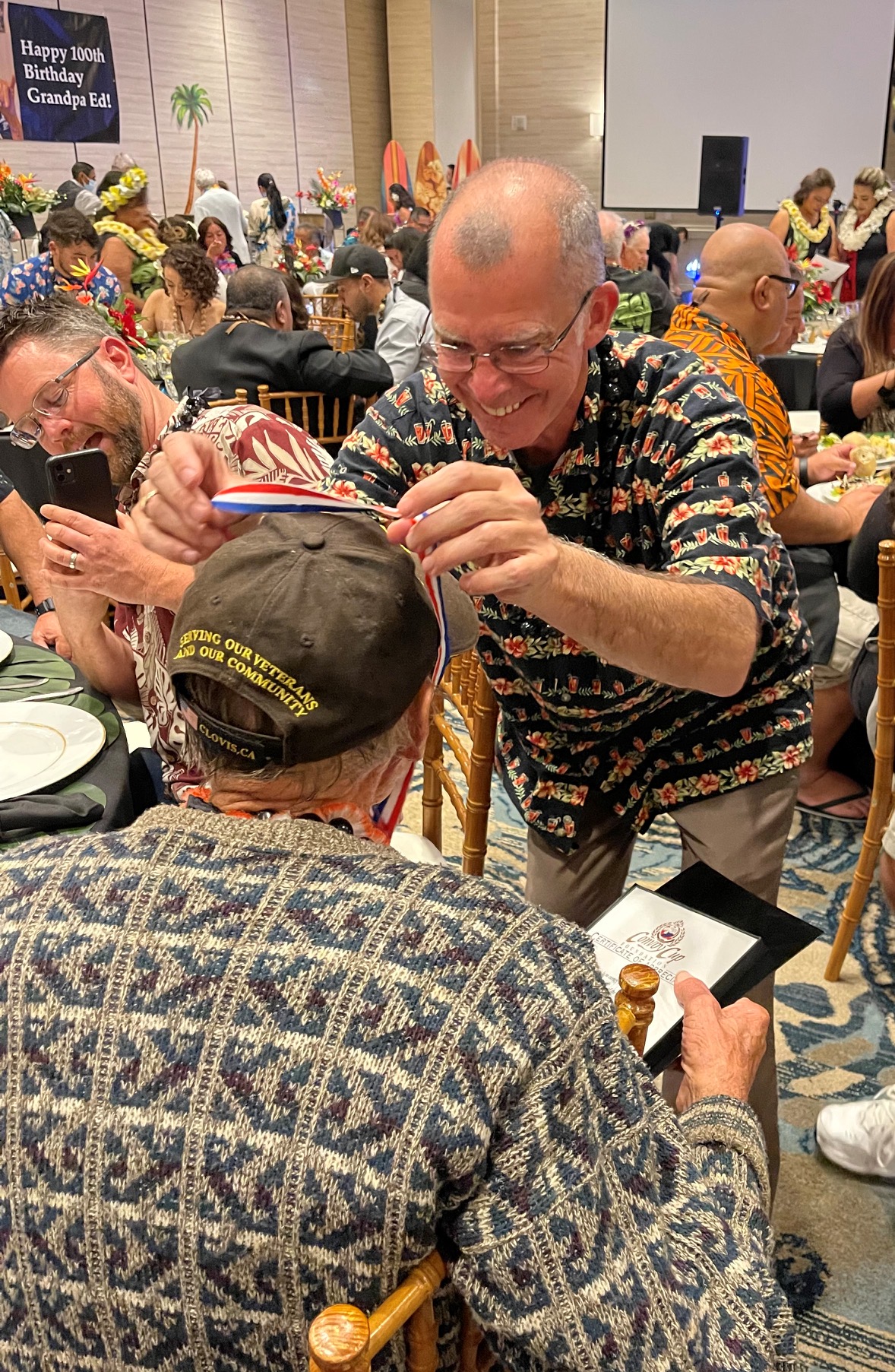 RVP Christian Yuhas presents Chic Brooks with the Convoy Cup medallion
Brooks had brought along a model of the Hobbs Victory in a glass case, which was a big photo attraction.
Towards the end of the party, Brooks and Laughton had a chance to briefly chat. Afterwards, Brooks commented, "He remembers it just the same as I do."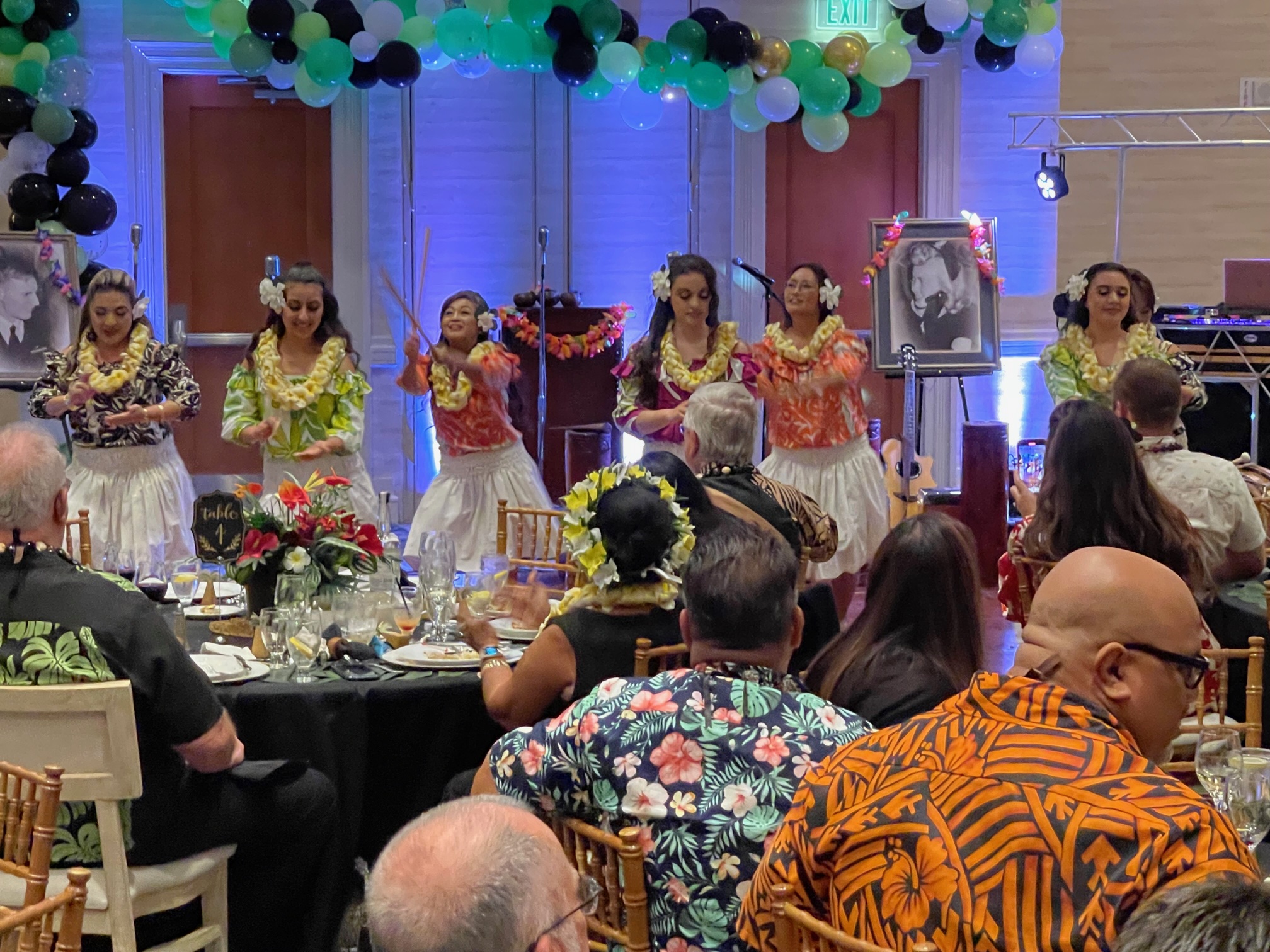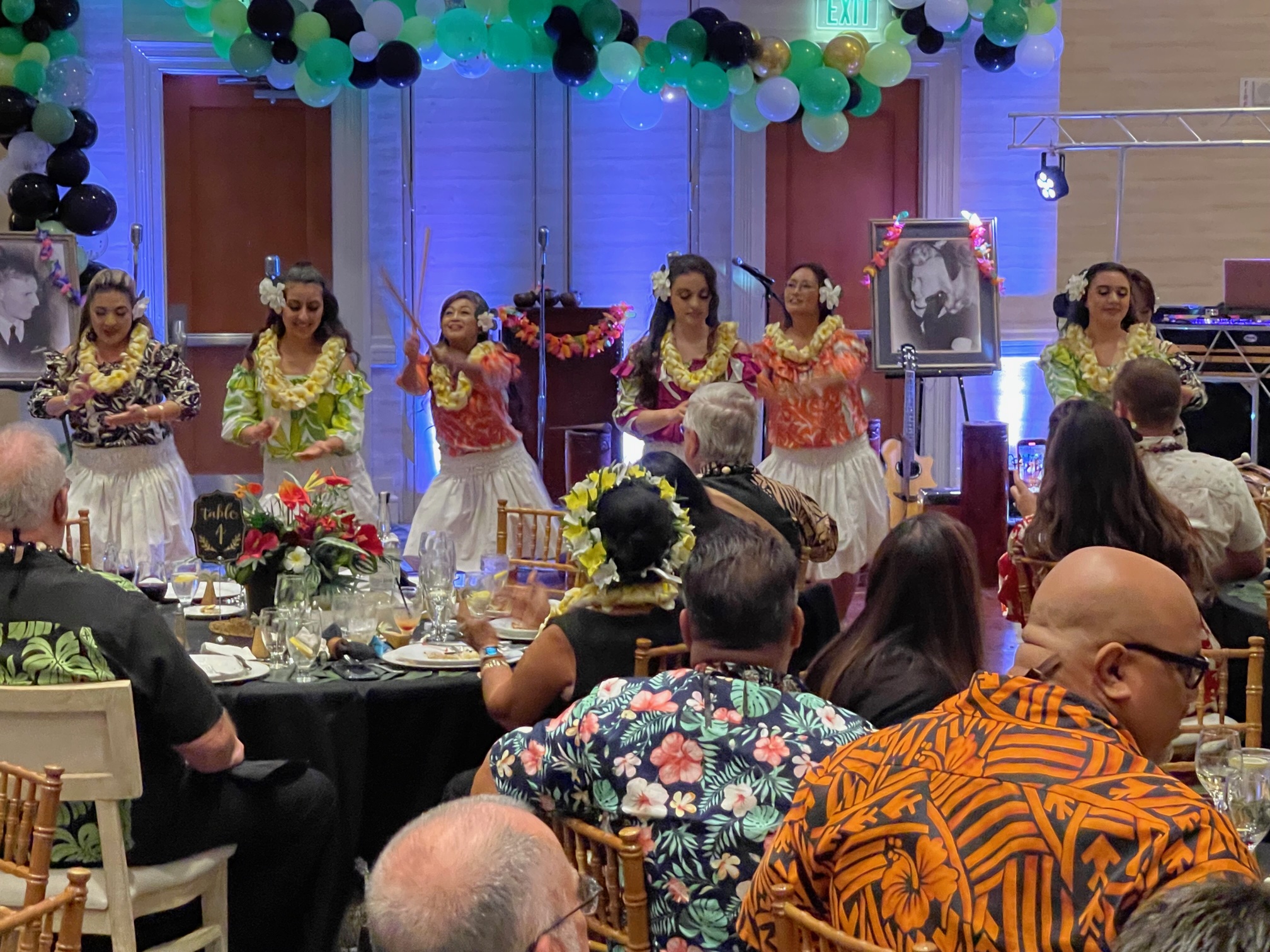 Ed Laughton's 100th birthday party was luau themed with lots of singing and dancing